Big · Complex · Timeless
JodyJazz GIANT
$350.00 – $395.00Buy Now
What Is the GIANT Tenor Saxophone Mouthpiece?
The GIANT series introduces a new concept in saxophone mouthpiece design that we call "Stealth Metal" combining the outside shape and look of a hard rubber mouthpiece with the precision of Aerospace Grade Hard Anodized Aluminum.
The GIANT has a dark, big saxophone sound but with strong projection and cut. The JodyJazz GIANT is excellent for Jazz, Straight Ahead, Bebop, Big Band, even Rock, Funk, and Blues. Due to its versatility, it can blend nicely with a concert band or saxophone quartet.
Big • Complex • Timeless
The GIANT is a great saxophone mouthpiece that seems to appeal to a very broad variety of players.
Made on our five-axis CNC mill in our factory in Savannah. The Aerospace Grade Hard Anodized Aluminum provides the perfect tone and the ability to manufacture with extremely high tolerances.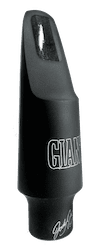 Four Goals in Creating the JodyJazz GIANT Tenor Saxophone Mouthpiece
To capture the very best of our popular HR* hard rubber line of mouthpieces and then through 3D modeling take it to the next level.
To create a tenor sax mouthpiece that is both warm and dark but with has a huge sound at the same time.
To make a metal mouthpiece with the same cutting edge technology as our DV sax mouthpieces, but costs less to produce since we don't 24kt Gold Plate the Hard Anodized Aluminum.
To demand and achieve the most rigorous QUALITY CONTROL possible. Each mouthpiece is individually play tested by Jody Espina or one of our professional saxophonists on staff to insure a perfect seal with the reed and proper response throughout the range of the saxophone.
JodyJazz GIANT Tenor Saxophone Mouthpiece Demonstration by Jody Espina
JodyJazz Artist - Arno Haas Demonstrates the Tenor GIANT 7* at the 2014 Musik Messe in Frankfurt Germany
Chad Taylor - Repair Technician at Sam Ash Music in Lombard, IL on the JodyJazz GIANT
Jody Espina Introduces the JodyJazz GIANT Mouthpeice at MusikMesse 2014
JodyJazz GIANT Tenor Sax Mouthpiece Available Tip Openings
6* = .095
7* = .105
8 = .110
8* = .115
Do you need a facing comparison chart?
CLICK HERE to compare JodyJazz mouthpieces with other brands.
Testimonials from JodyJazz Artist Endorsers
JodyJazz GIANT Tenor Sax Mouthpiece Price:
$350
The mouthpiece comes with a Rico H Ligature and Cap, and Deluxe Mouthpiece Pouch. Free domestic USPS Priority Mail shipping and handling included. (Click "Buy Now" button to see overseas shipping).
$350.00 – $395.00Buy Now
Special Notes on the GIANT Tenor Saxophone Mouthpiece
Every JodyJazz mouthpiece is hand finished to insure the absolute best quality. In addition, each mouthpiece is individually play tested by Jody Espina or one of our professional saxophonists on staff to insure a perfect seal with the reed and proper response throughout the range of the saxophone.
The GIANT Difference
5 Axis CNC Machining - Allows for extremely precise manufacturing and repeatability.
Unique Design - The unique inner and outer shape of the JodyJazz GIANT Tenor Saxophone Mouthpiece gives it a unique sound and feel. This is a unique chamber design.

Hand Finished - Each GIANT mouthpiece is hand finished to ensure the absolute best quality and is individually play tested to ensure a perfect seal with the reed and proper response throughout the range of the saxophone.
What Does The GIANT Do?
Big Warm Complex Sound
Free Blowing with a touch of resistance
Extremely even sound throughout the range of the saxophone
Responsive in all registers
Power and Projection
Good for all styles of music
How Does The GIANT Do It?
Large Chamber
Precision - CNC Machined
New facing curve
Hand finished baffle and tip rail
Play tested by Jody Espina or one of our professional saxophonists
Unique material – Anodized Aluminum
A Giant Step for Your Sound
not loud,

BIG

The GIANT has a large chamber and a large sound. This tenor saxophone mouthpiece is somewhat unique in the fact that normally to get a lot of projection you have to have a smaller chamber, which gives you a brighter more cutting sound. And when a mouthpiece has a larger chamber the sound becomes warmer but the projection goes way down. Another way to say that is that large chamber saxophone mouthpieces are typically quieter. But the GIANT has a large chamber and huge warm sound due to the following unique factors that make up the GIANT: Material – Anodized Aluminum, Facing Curve – this is a brand new facing curve that allows maximum reed vibration, Baffle – this is the material inside the mouthpiece right next to the tip rail (extremely important for projection), Chamber Shape – The GIANT has its own unique chamber shape which is allowing warmth with projection.

not focused,

COMPLEX

The GIANT produces a sound that has a core and more. There are many aspects to a saxophone sound and when we say a mouthpiece has a focused sound we mean that you hear more core to the sound than anything. The chamber and material combination of the GIANT are allowing it to create a sound that can be shaped by the player and ultimately have many interesting and complex aspects to the sound creating unique beauty to your saxophone sound.

not vintage,

TIMELESS

There are so many Jazz saxophone mouthpieces on the market today that are simply trying to recreate mouthpieces of the past. When making the GIANT we did not have this goal in mind although we think that those players wishing to evoke the sound of Classic Jazz mouthpieces should look at the GIANT. But rather we were trying to move into the future using state of the art manufacturing techniques, new material and new ideas to create a new Classic Jazz Sound.

Stealth Metal

The GIANT has the outside shape and look of a hard rubber mouthpiece but the Anodized Aluminum material gives it the precision of a metal mouthpiece. CNC machined to exact tolerances. The large chamber is expertly hand finished to produce an extraordinarily full sound.
GIANT Tenor George Garzone Signature Models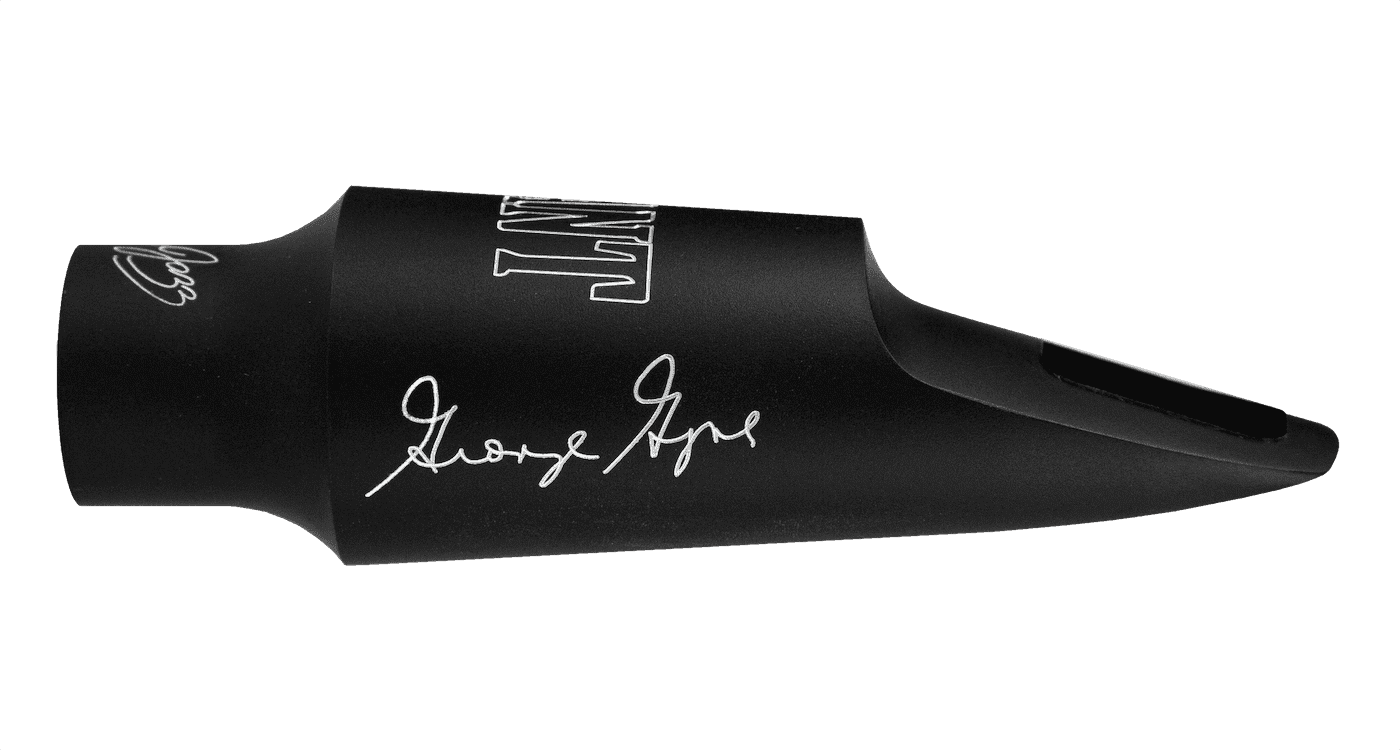 The two newest additions to the GIANT Tenor range. Working with world-renown Tenor Saxophonist George Garzone, the company has developed the GIANT Tenor 9* and 10* models both of which will be launched as George Garzone "Signature" models.
"George Garzone is one of my favorite Sax players and in my opinion one of the greatest Tenor players of all time. He is inarguably one of the greatest living Tenor players today," says Jody. "Larger tip openings give you more harmonics in the sound and a darker tone. The larger distance allows the reed to vibrate further, generating more harmonics. I knew these characteristics would truly lend themselves to the inherent qualities of the GIANT Tenors but larger tip openings saxophone mouthpieces are more difficult to play and require more control and practice. So I was determined to develop large tip openings to offer in the GIANT range that would be easier to play and working with George I'm proud to say we've more than achieved that goal."
The main way this was accomplished was by using a facing curve that is similar to the curve on one of George Garzone's old Hard Rubber Link 10* mouthpiece that he used to play many years ago. Essentially it is a shorter facing than you would expect on a large tip opening.
"I've been playing the JodyJazz HR* hard rubber for years and thought I would never look at another mouthpiece, but when Jody invited me to the factory to work with him on the larger tip openings for the new GIANT Tenors, I was intrigued," said George Garzone. "Many years ago we'd worked together to develop the facing curve on my HR* Tenor 10* and we applied the same principles to the new GIANT Tenor 9* and 10*. Jody's facing curve makes these larger tip openings much easier to play. The metal mouthpiece with the hard rubber shape is the perfect mix for me. The colors in the sound of the GIANT are amazing and I love the way I can lean into it to shape my sound."
Many people will doubt that they can play a 9* or a 10* but they are so often surprised that it does not require much more energy than their current 8* for example. We encourage you to try the Giant George Garzone Signature Model for yourself.
"Dear Jody, I just wanna say how much I love your mouthpieces. I've been playing your mouthpieces for the last 5 years and you guys down do great work. I have both you Tenor classic, HR, and just recently the Giant. The Giant is some of your best work yet for me, its the mouthpiece I've been looking for. Thank you - William Hopkins"
William Hopkins - Atlanta, GA
---
"Jody, John and Danielle, Just one more email response and I will leave you guys alone. I played the GIANT 7* in rehearsal this evening. The blend was noticeably better in the ensemble, the intonation was exemplary at all volume levels and ranges, the response was immediate, and the dynamic range and tonal consistency were just plain fabulous. The piece is so much easier to control, and I am gonna love soloing with it as well. Most of all, quite simply, I absolutely love the sound of it with my Yanni 991. I am using VanDoren JaZZ 2.5 reeds. I could not be more pleased. The mp is everything that is described on your website, and now I sound like the demo by Arno Haas! Well, except that I cannot play as well. Best regards, Bruce "
Bruce Henderson, Canton, NC
---
"Greetings from Australia A thousand thank you's for your Giant tenor mouthpiece. It is quite simply awesome. After playing professionally for 35 years, i've pretty much played them all, and the Giant just blows my other pieces away. Don't get me wrong, my other pieces are great playing mouthpieces, but most of them really only do one thing. For me, the Giant does it all. Fat, rich sound for acoustic jazz, enough edge to cut through in an electric gig, and all with power to boot. Congratualtions on producing such a wonderful mouthpiece. Thanks again for the great mouthpiece. Best regards. Ralph Franke"
Ralph Franke - West Beach, Adelaide, Australia
---
"The tone was very focused and with a little push sounded like an incredibly good metal Otto Link. The range of sounds the Giant can produce is remarkable. The Giant was absolutely stellar on the jazz gigs and held up quite well on the loud stuff considering it is not a "paint peeler" The response and tone were even in all registers, and articulation was nice and clean. And thats not all: The altissimo range absolutely killed. It's a truly unique product, combining elements of both hard-rubber and metal pieces in a way that could appeal to players of either camp. It plays like crazy. Whether you prefer hard-rubber or metal, check out the GIANT - there really is nothing else quite like it out there."
Steve Eisen - Downbeat Magazine
Steve Eisen
---