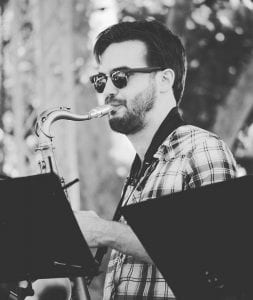 Lorenzo Ferrero on the DV NY Tenor 10*
"My DVNY 10* is an absolute gem, it's been by my side for over 4 years playing styles as varied as Jazz, funk, salsa, rock, etc. It's gorgeous dark and warm sound makes it perfect for an intimate situation but it also gives me the versatility to play with a lot of projection and brighten the sound with my embouchure. Every time I try another mouthpiece, I always go back to my DVNY 10* and instantly feel I'm at home. Thank you for the master work, Jody."
Lorenzo Ferrero Biography
Lorenzo Ferrero is a renowned saxophonist, composer, arranger and educator. He started playing the Clarinet at the age of 13 and soon joined the Peruvian Youth National Orchestra. At the age of 16 he discovered the tenor saxophone and it became his primary instrument. During the following years he started taking lessons in Jazz improvisation and theory. In 2009 he attended Berklee College of Music on a scholarship where he majored in Jazz composition, orchestration and orchestral conducting. After graduating Magna Cum Laude, he moved to Vienna to perform on a European tour as a band member of renowned bassist Juan Garcia Herreros, "Snow Owl".
During his time in Austria Lorenzo also worked as a session saxophonist, collaborating with the top musicians of the country. He recorded several projects with Grammy Award winner Georg Luksch and was commissioned by the University of Technology of Vienna to write the opening waltz for the ceremony commemorating the 200 anniversary of their annual ball, which was held on January 2015. Lorenzo became a part of Musketier Music Agency in Austria, where he continues to work as a freelance arranger, producer and composer for several musical projects including being musical director of the album "Love is Alive" by renowned singer Ola Egbowon.
In 2014, Lorenzo founded the "Jazz and Contemporary Music Workshops", a program created with the purpose of bringing contemporary music knowledge to the young musicians of his hometown Lima, Peru. Since then, he has been invited to teach several clinics at different institutions, including the National Conservatory of Music in Lima and The University of San Martin de Porres, among others.
Lorenzo has performed in many countries throughout the world including the United States, Canada, Austria, Germany, Slovakia, Greece, Peru and Italy. He relocated to Los Angeles in November 2015. Since then, he has worked as lead assistant to renowned Hollywood composer Christopher Young, and continues to perform with world-renowned musicians. He is a member of the band "Alex Acuña and 7 bien" and has formed his own big band alongside Peruvian saxophonist Anibal Seminario, where he continues to expand his expertise by conducting, arranging and performing with the band. Additionally, he has become an author after being published by the music editing
company "Violet Anamnesis" with his books: "Applications of Contemporary Harmony vol. I" and "Applications of Contemporary Harmony, vol. II". Lorenzo is also an artist, developer and instructor at the "Music Interval Theory Academy of Music" based in Los
Angeles, CA.
His most influential teachers include George Garzone, Frank Tiberi, Dennis Leclair, Greg Hopkins, Yakov Gubanov, Conrad Pope and Christopher Young. He has also performed and toured with international acclaimed artists such as Arturo Sandoval, Alex Acuña, Gilberto Santa Rosa, Ramon Stagnaro, Oscar Stagnaro, Otmaro Ruiz, Juan Garcia Herreros (Snow Owl), Hector Martignon, Roberto Quintero and Carlo Mombelli, among others.