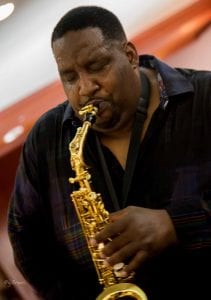 Phil French on JodyJazz Mouthpieces
"JodyJazz Mouthpiece presentation makes me proud to refer others to experience this same joy that I'm living in now. The superior build and quality of these mouthpieces are simply the best. Whatever your style or preference, JODY'S GOT A MOUTHPIECE FOR THAT!!!"
Phil French Biography
Phil French is a true force to be reckoned with. As a multi-threat talent he is trailblazing the music world of Gospel and Jazz with momentous success. As a gifted saxophonist, producer, songwriter, arranger, recording artist, and engineer, Phil French has laid a firm foundation with an impressive discography and a virtual "who's who" of musical industry giants with whom he has performed and ministered. Household names such as The Winans, The Clark Sisters, Fred Hammond, Richard Smallwood, Kim Burrell, Yolanda Adams, Jean Carne, Stanley Turrentine, Grover Washington, Jr., Norman Connors, Ramsey Lewis, Najee and a host of others have been touched by his talents. What he's been blessed to accomplish to date has prepared him for his next assignment. Taking everything and everyone to the next level, he has teamed up with his long-time friend, musician, writer, recording artist, and producer in his own right, Terrence Richburg, to bring to fruition his new, game-changing CD release on the RichEscape Music label, Everlasting.
Phil's lifelong passion for music started at the age of 10. All it took was one look at the saxophone, and he knew he needed to try it out. "At school, you had to be in 5th grade in order to play the saxophone, but at the time, I was in 4th grade," Phil recalls. "People tried to encourage me to play something else in the meantime, but I waited. There was something about the saxophone that drew me in, even before I picked it up to play it for the first time," he says.
Once he was old enough, he started his formal musical training in the Maryland public school system including Thomas Stone Elementary School in Mt. Rainier, Roger B. Taney, Jr. Junior High School in Temple Hills and Crossland High School, also in Temple Hills. However, French really honed skills while playing at Shiloh Church of God 7th Day in Hyattsville, Maryland.
As a youth, Phil continued to play his saxophone in both Christian and secular arenas. Mentors like Alvin Nesbitt, a gospel harmonica player, Pastor Jonathan Carson, a skilled organist and fellow sax man, and jazz icon, the late Grover Washington, Jr., all poured into Phil. He cites their influences in helping to make him the gifted saxophonist he is today.
Throughout his development he has been afforded the opportunity to perform, minister, and share the stage with a variety of locally, nationally, and internationally acclaimed musicians and artists including Pieces of a Dream, Marion Meadows, Brian McKnight, the late Ollie Woodson formerly of the Temptations, Marvin Sapp, William Becton & Friends, Maurette Brown Clark, and a host of others.
But, perhaps one of French's most pivotal musical endeavors was serving as a band member and the Music Director for the GRAMMY Award winner Yolanda Adams for over four years. While playing with Yolanda, he also had the opportunity to record on her album More Than a Melody. During the same time, Phil was also a band member of the legendary Jean Carne. His experiences with Yolanda Adams and Jean Carne have helped him to polish his stage presence and perfect his amazing, jaw dropping circular breathing technique. Phil has also performed and recorded on sessions with the award winning Ben Tankard.
Now a Dallas, Texas resident, and a member of the renowned Potter's House where Bishop T.D. Jakes is pastor, French has become one of the most sought after inspirational jazz instrumentalist. Performing all over the country for all types of events including jazz, Gospel and cultural festivals, conferences and convocations, jazz venues and restaurants, as well as Sunday morning church services, Phil truly believes that music is for everyone. His call and desire is to use the gifts that God has given him in music as a language to cross all barriers including but not limited to race, denomination, religion and color. A favorite with Gospel music lovers and jazz fans alike, Phil has an uncanny ability to move each heart as he plays. Most of all, Phil simply wants to bring God glory.
In his role as recording artist, French has released six projects to date on his FrenchySoundz Music label: Been So Good! (2000), Royal Love Songs (2002), Songs to Hymn (2007), Beyond This World (2008), Songs for His Season (2009) and The Alpha Experience (2013). In 2014, he collaborated with Terrence Richburg signing with Richburg's Stellar Award-nominated record label, RichEscape Music. French released of his 7th CD, Everlasting Featuring Terrence Richburg, on January 27, 2015. French and Richburg created musical magic during the making of the new CD. With stunning compositions and instrumentation by Richburg and smooth sax sounds from French, the 17-track project, including vocal and instrumental songs, is a melodic masterpiece fashioned to inspire the soul and delight the ear. Tracks like "In My Heart", "Wave Offering" and "Consider Now Eternity" leave the listener begging for more. Just one listen and it's clear that this musician has been given something very special.
The new project is a culmination of sorts as well as a new beginning. The CD is a sonic reflection of how far God has brought him and where He is taking him. The true power of the calling on Phil's life was apparent at the end of a Bible Study one night. "I remember one evening, a young man came to me and wanted to talk with me," shares Phil. "He said to me, 'I have one of your CDs and there is one song that I keep playing. There is something about that song. I used to do things before I heard your music that I don't do anymore. I used to abuse my wife, but that song took that spirit off of me'. That one conversation let me know that I can't stop doing what I am doing. I will never stop. That's what it's all about."