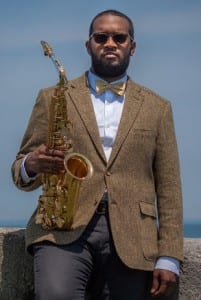 Raji Halim on the JodyJazz HR* series mouthpieces and GIANT 7* mouthpiece
"The JodyJazz HR* series are great playing mouthpieces. They are free blowing like all of Jody's mouthpieces which allow for a quick response and great control of one's sound. I love the fact that I am able to perform almost any style on these mouthpieces, from the sweetest of ballads to the most cutting rock or pop solo. I decided to play the GIANT 7* on tenor to add an extra cut to my sound. Although it is a metal mouthpiece, The GIANT still feels so much like my Tenor HR* 7*. I highly recommend trying out the HR* and the GIANT!!"
Raji Halim Biography
Rajiv Halim is a saxophonist and composer from Chicago, IL, born to immigrant parents from Belize on September 15, 1990, incidentally the same birth day as saxophonist, Cannonball Adderley. The music of the late, great Charlie Parker became the beacon that sparked Rajiv's love for improvisation and creative music.
The Rajiv Halim Quintet performs regularly in the greater Chicagoland area and features trumpeter – Victor Garcia; guitarist – Scott Hesse; bassist – Junius Paul; and drummer – Michael Piolet. Rajiv's debut album, "Foundation," was released in August 2015 and is available for purchase worldwide. Rajiv also performs with other well-known local bands: Ron Haynes' Game Changers; The Xavier Breaker Coalition; and Robert Irving III's Generations.
Early in his career, Rajiv was the saxophonist for the eclectic band Kids These Days (KTD, now defunct). KTD started out as a jam band, which later produced original songs that got the group of misfit musicians national recognition. Released in June 2011, KTD's EP, "Hard Times", was recognized by the Chicago Tribune, New York Times and Huffington Post. KTD opened shows for artists ranging from Snoop Dogg to Raphael Saadiq, and the band, "Chicago."
Internationally, Rajiv performed in Canada with KTD, in Poznan, Poland at the "Made in Chicago" festival with guitarist Mike Allemana; in Belize at The Bliss Institute for Performing Arts; and in Taichung City, Taiwan at the 2014 Taichung Jazz Festival. Nationally, Rajiv has performed and/or recorded with many great musicians: Rudresh Mahanthappa, Ernie Watts, Wess "Warmdaddy" Anderson, Cory Henry, Richard Gibbs, Curtis Lundy, Antonio Hart, Lisa Henry, Von Freeman, Mike Stern, Crucial Conflict, Martha Reeves, Bob Mintzer, The Four Tops, Ernest Dawkins, Maggie Brown, Orbert Davis, Maurice Brown, Corey Wilkes, Marquis Hill and others. Locally, Rajiv has also performed at the 2013, 2014, and 2015 Chicago Jazz Festivals.
Rajiv has also won awards as a solo artist. He won first (1st) place in Division II of The 2010 Union League Civic and Arts Foundation's Jazz Improvisation Competition. He was awarded an Outstanding Individual Musician Award at the 2010 Elmhurst College Jazz Festival. He placed second at the first annual (2013) "Saxophone Idol", an international competition organized by Keilwerth Saxophones; the judges included legendary saxophonist Ernie Watts. Rajiv then travelled to Taiwan to contest the 2014 Taichung Saxophone Competition. After the first round of elimination, twenty nine (29) contestants were invited over to Taichung City, Taiwan from eight (8) countries, spanning three (3) continents for the final rounds; Rajiv took second place in this international competition.
When Rajiv isn't writing, playing, or practicing, he could be found at St. Patrick High School in Chicago, teaching saxophone sectionals and giving private lessons. Check out Rajiv's debut album, "Foundation", released in August 2015 on many digital platforms worldwide.