Tom Quartulli on JodyJazz DV Tenor
"JodyJazz makes the finest mouthpieces. The DV has really opened up the horn's sound, projection and color, not to mention the ease of overtones and altissimo. I highly recommend Jody's pieces to any woodwind player trying to find their sound – it certainly helped me find mine. Cheers Jody! Keep up the outstanding work!"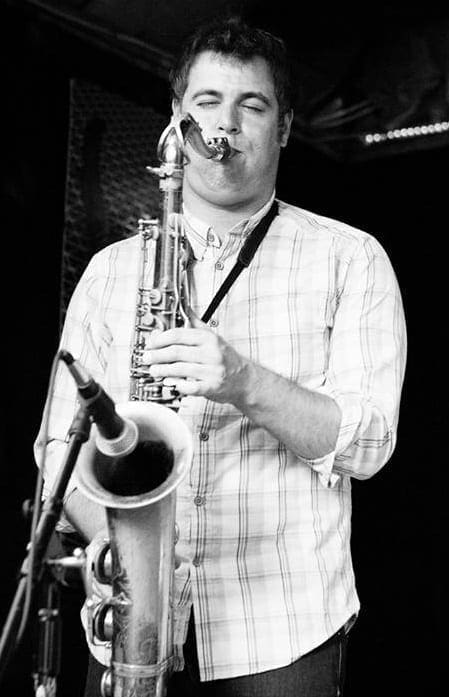 Tom Quartulli
Tom Quartulli got his start with the saxophone at young age studying in Worcester, Massachusetts with local jazz man Ken Sawyer, a former student of the great Boots Mussulli. Learning from the jazz and rhythm and blues arrangements that Sawyer had passed down from his mentor Mussulli, Tom started to develop his own sound and approach to music.
After moving to Boston in 1999 to attend Berklee, Tom began to perform and record with several Boston bands including The Allstonians, The Kings of Nuthin', and Darkbuster (all Boston Music Award winners and staples of the New England music scene.) Around this time he found himself traveling with some of his bands and by a chance encounter in L.A. one night he was able to sit in on an entire set with the legendary RnB vocal group The Robins. This experience forever changed Tom and caught original rocker Billy Lee Riley's attention who asked Tom to also sit in with him that same night. Tom has also toured with long running ska bands Bad Manners and The Toasters, performing with the latter all over the world and making an appearance on MTV Brazil
As of 2010, Tom joined Barrence Whitfield and the Savages when they decided to reunite the original members. Although not an original member (the Savages were formed in 1982) Tom was chosen for his well-studied approach of rock and roll / rhythm and blues sax. As a Savage he has made two albums so far with the great soul shouter Barrence Whitfield, 'Savage Kings' (2011) and the highly acclaimed 'Dig Thy Savage Soul' (2013.) This 2013 release brought BW and the Savages to perform on BBC Two's flagship music show 'Later…with Jools Holland.' Since then Tom has spent most of his time touring North America and Europe with Barrence Whitfield and the Savages and also continues to play locally with many other Boston groups.
Some recent review of 'Dig Thy Savage Soul' by Barrence Whitfield and the Savages….
"So, too, is the rest of his band, especially guitarist Peter Greenberg (ex-Lyres) and sax man Tom Quartulli. Both men seem to be on a mission to peel the paint off the studio walls with their blistering solos, especially on the opening, Dirtbombs-y soul menace of "The Corner Man" and the album's-over-but-the-party-ain't closer cover of Jerry "Boogie" McCain's "Turn Your Damper Down"." (PopMatters)
"Tom Quartulli on saxophone is the batter around the deep-fried Oreo that is this album; coating smoothly over the guitar riffs in a way that you never realized you wanted until you tried it." (Dig Boston)
"Tom Quartulli, a stone descendant of Lee Allen and Junior Walker, powers "Hey Little Girl," the Savages rolling like Fats Domino, rocking like the New York Dolls." (Blurt)
"Particularly of note is the horn section, blowing hot and thick, with Quartulli's solo a wonderful essay in how not to play too many freaking notes." (Vinyl District)