The Music of
George Garzone
& The Triadic Chromatic Approach
$59.95Buy Now
Triadic Chromatic Approach Lessons Only with subtitles in:
2 DVD Disc Set Over 3 Hours of Material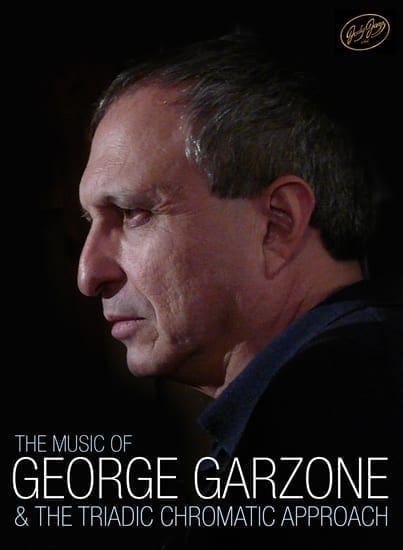 About This DVD
"The Music of George Garzone & The Triadic Chromatic Approach", is a Jazz Improvisation Instructional DVD and much, much more.
MADE FOR ALL INSTRUMENTS
Performances:


Solo, Duos, Trios, an Sextet performances

The Triadic Chromatic Approach:


23 Chapters & 30 Examples of In-Depth Lessons

Trading Play Alongs:


George Plays / You Play w/ Rhythm Section

Pure Play Along:


You Play w/ Rhythm Section

Garzone On Sound:


In-depth Lesson of Saxophone Sound Production

PDF Supplements:


Transposed for all instruments, examples, exercises and lead sheets

Bonus Features:


Interviews, Alternate Takes, Extra
Who Can Benefit From This DVD?
ANYONE WHO:
Wants to Improve their Improvisation Skills
Wants to Improve their Saxophone Sound & Playing
Wants intimate and unprecedented access to one of the greatest musicians and teachers of our time
Would like to be inspired to take your playing to the next level and beyond
Wants to improve their time
Triadic Chromatic Approach
This method is a new innovative approach to jazz improvisation developed and created by George Garzone over the last 25 years of teaching and playing. It teaches you how to generate non permutative lines. That means lines that aren't predictable or repetitive and sound totally fresh. It will allow you to play over chord changes without fear.
Triadic Chromatic Approach includes subtitles in following languages :
German – Italian – Japanese – Spanish
"The Music of George Garzone & The Triadic Chromatic Concept DVD Trailer"
*See George Garzone Biography*
Master Class Featured On DownBeat Magazine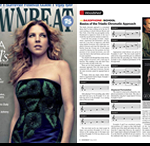 If you would like to know about what this Triadic Chromatic Approach DVD has to offer, please see the featured master class by George Garzone in Downbeat magazine May 2009 issue.
Click To See Full Master Class
Thanks a lot for your interest Todd. You bring up a very good point. When we first put up the DVD webpage we forgot to state that we have PDF's on the DVD that you'll be able to print out, with written examples and exercises. There will not be a book because George doesn't believe that the concept should be taught like that. I believe that the written material that we're providing will be more than sufficient to make sure that the student understands what's going on and knows how to proceed. The whole point is that George doesn't want people memorizing lines that turn into patterns. The beauty and freshness of the concept is that you won't be playing repetitive lines, licks or patterns. I think that you'll be using this DVD for many years to come and that once you have it you'll really help us spread the word.
This is a unique look into the music and the innovative jazz improvisation concept of one of the greatest saxophonists of our time. Besides having the actual lessons teaching the Triadic Chromatic Approach, you get an albums worth of performances, the lesson on sound, the interactive play-alongs where you actually get to trade choruses with George the interviews and more. The overall effect is more like actually studying with George privately week after week. Because if you were George's private student you would probably go to some of his gigs and see him play live, you would get to improvise with him in the lessons, and very importantly, George would give you advice and encouragement on many subjects. Throughout the DVD you are getting little pearls of wisdom from George that you would get from a mentor type of relationship. Imagine if we had this kind of comprehensive and intimate look at John Coltrane. A DVD like that would be priceless. The Music of George Garzone & The Triadic Concept", is just like my mouthpieces, in that I make mouthpieces that I want to play and this DVD is exactly what I would want to see.
I ask George questions about his saxophone sound and the result is 17 different tips on how to get your best saxophone sound. Including tips on embouchure, breathing, vibrato, practice techniques, his daily practice regimen, mouthpieces, reeds, etc., and the great thing is he demonstrates everything with that beautiful sound. Along the way we learn about George's early years as a teenager and how he got his "family given sound". As George says, "Sound is everything", and "Garzone on Sound" will give you everything you need to know to get the best saxophone sound of your life.
Dave Liebman Says: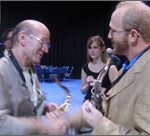 "Having known, played and communed with George over decades now, I am so glad to see his hard work, honed by years of real in the trenches teaching, finally being released in a classy and professional production. No one deserves it more…his approach can truly transform your playing."

David Liebman
---
Gary Campbell Says:
"I just watched new DVD "The Music of George Garzone and the Triadic Chromatic Approach.". First of all, George and the other cats sound beautiful and the performances alone are worth the price of the DVD. As a player and teacher myself, it's a real pleasure and inspiration to see George demonstrate his approach. Jazz is about personal expression and discovery, and George's way really emphasizes that process – not stock solutions to generic issues, but how to search, meditate, and find your voice. Now the whole world can hear his enlightened message through this DVD. A unique and beautiful contribution by one of today's true masters."
Gary Campbell – Recording Artist, Author, and Associate Professor of Jazz Studies/Saxophone, Coordinator – Jazz Performance at Florida International University
Joe Lovano Says: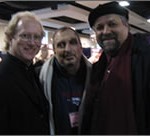 "George Garzone is one of the most visible, heard and respected saxophonists and educators on the world stage today. His influence and contribution are immeasurable in scope. He is constantly working out new ideas and developing his approach to communicate with others and has been doing so for quite some time. George is dedicated to the music and is a constant inspiration to everyone around him, including me.
This amazing DVD, "The Music of George Garzone & The Triadic Chromatic Approach", will have everyone that wants to create music, enlightened and searching for fresh ways of developing new ideas !!! Enjoy the journey, thats whats it's all about."
Joe Lovano – Multiple Grammy Nominee, Gary Burton Chair in Jazz Performance – Berklee College of Music
---
George Garzone Interview with JazzImprov NY Magazine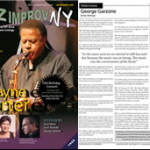 DVD Credits
Published by: JodyJazz Inc.
Produced & Directed by: Jody Espina
Videographer: Kevin Scott
Sound Engineer: Joe Marciano
Written By: George Garzone
Assistant Director: Naoki Iwane
Film Editor: Patricia Buskirk
Artistic Director: Naoki Iwane
Filmed and Recorded at Systems Two Recording Studio – Brooklyn New York
MUSICIANS
Performances by "The Fringe"
Saxophone: George Garzone
Bass: John Lockwood
Drums: Bob Gullotti
With Special Guests:
Vibraphone: Mike Mainieri
Guitar: Chris Crocco
Saxophone: Frank Tiberi
"Jody
it was great to talk to you the other day. The DVD arrived yesterday- it's great to see everything I've been working on with George so thoroughly explained in it. I'm really shedding this stuff. "
Kendrick Lo - NYU (New York)
---
"Dear Mr Garzone,
Thank you again for your music have a number of you cd's! Just received your dvd of Triadic Chromatic Approach via JodyJazz. –Awesome presentation of your concept. As you mentioned in the dvd to implement this concept - it has to be a daily process.
Regards Thanks for doing it! "
Craig Ferguson - Melbourne, Australia
---
"Hello George,
I am writing to say thank you for making the DVD's. The exercise on sound that you do is much more to the point than what I was doing before, great. You have also inspired me to ""really" work out on triads, upside down and inside out. Slowly... Thanks and all the best,
Thanks for doing it! "
David Beecroft - Berlin, Germany
---
"Hi George..... Just a quick note to say congrats on the DVD. I've got my copy and have been loving it! The format and your presentation are outstanding. I love the stuff in the dvd about sound and air. After a while I start slipping on that stuff. Start biting too much...Your ideas are already opening my sound up again. Great to have a reminder! Thanks for doing it! "
Josh Cook - Fredericksburg, VA
---
"Dear Mr. Garzone
Just got your DVD from jodyjazz, and wanted to let you know how much I appreciate your taking the time and trouble to lay out one of the most original concepts for improv I've seen in a long time. It will definitely keep me busy. Thanks again for a great DVD, and thanks to Jodyjazz for making it happen
Sincerely"
John Gould - Maumaell, AR
---
"Hi Jody
I recently receive the DVD copy of George Garzone's Triadic Chromatic Improvisation. George blew me off my feet! The DVD is worth every penny of my hard earned money! I would like to thank George for sharing to the world his trade secret. It has been a long time that I encountered honest to goodness instructional material with no holding back of vital information. Thank you very much and more power! "
Jonathan Desear - Makati City, Philippines
---
"The Music of George Garzone & the Triadic Chromatic Approach gives the student of jazz a wealth of information to digest for years to come."
"Soul Eyes... this cut is sent from HEAVEN!"
Skip Spratt - Saxshed.com
Visit Website Here.
---
""I must say that this DVD did give me a totally new understanding of why Garzone's lines sound so unique, and for that alone it is worth the price of the admission ticket.... ...As a television and DVD producer myself I really appreciated the production quality of every aspect of this project.... It's hard to imagine how a tenor sound could be any better; it's rich, warm, sweet, fat, and complex. I must say that this recording made me want to try a hard rubber JodyJazz piece. There's also a duo version of Soul Eyes with Mike Manieri that is stunningly beautiful. George's sound here is something like a perfect marriage of Getz and Trane. ...After watching the first DVD the student should have a clear understanding of how to apply the concept and be able to start the process of learning to apply it.... ...The second DVD in the set starts off with a great exposition by George on sound. After all, George is like the Louis Armstrong of the saxophone and a Garzone DVD wouldn't be complete without this lesson... "
David Valdez
Visit Website Here.
---