The Music of
George Garzone
& The Triadic Chromatic Approach
$59.95Buy Now
Triadic Chromatic Approach Lessons Only with subtitles in:




2 DVD Disc Set Over 3 Hours of Material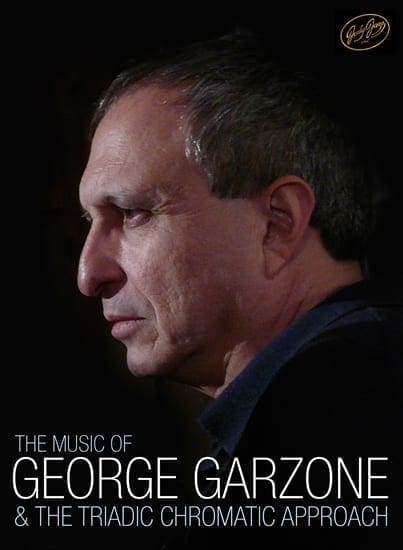 About This DVD
"The Music of George Garzone & The Triadic Chromatic Approach", is a Jazz Improvisation Instructional DVD and much, much more.
MADE FOR ALL INSTRUMENTS
Performances:


Solo, Duos, Trios, an Sextet performances

The Triadic Chromatic Approach:


23 Chapters & 30 Examples of In-Depth Lessons

Trading Play Alongs:


George Plays / You Play w/ Rhythm Section

Pure Play Along:


You Play w/ Rhythm Section

Garzone On Sound:


In-depth Lesson of Saxophone Sound Production

PDF Supplements:


Transposed for all instruments, examples, exercises and lead sheets

Bonus Features:


Interviews, Alternate Takes, Extra
Who Can Benefit From This DVD?
ANYONE WHO:
Wants to Improve their Improvisation Skills
Wants to Improve their Saxophone Sound & Playing
Wants intimate and unprecedented access to one of the greatest musicians and teachers of our time
Would like to be inspired to take your playing to the next level and beyond
Wants to improve their time
Triadic Chromatic Approach
This method is a new innovative approach to jazz improvisation developed and created by George Garzone over the last 25 years of teaching and playing. It teaches you how to generate non permutative lines. That means lines that aren't predictable or repetitive and sound totally fresh. It will allow you to play over chord changes without fear.
Triadic Chromatic Approach includes subtitles in following languages :
German – Italian – Japanese – Spanish
<!- View not found ->
"The Music of George Garzone & The Triadic Chromatic Concept DVD Trailer"
*See George Garzone Biography*
Master Class Featured On DownBeat Magazine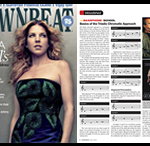 If you would like to know about what this Triadic Chromatic Approach DVD has to offer, please see the featured master class by George Garzone in Downbeat magazine May 2009 issue.
Dave Liebman Says: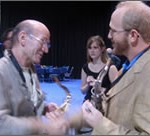 "Having known, played and communed with George over decades now, I am so glad to see his hard work, honed by years of real in the trenches teaching, finally being released in a classy and professional production. No one deserves it more…his approach can truly transform your playing."
David Liebman
---
Gary Campbell Says:
"I just watched new DVD "The Music of George Garzone and the Triadic Chromatic Approach.". First of all, George and the other cats sound beautiful and the performances alone are worth the price of the DVD. As a player and teacher myself, it's a real pleasure and inspiration to see George demonstrate his approach. Jazz is about personal expression and discovery, and George's way really emphasizes that process – not stock solutions to generic issues, but how to search, meditate, and find your voice. Now the whole world can hear his enlightened message through this DVD. A unique and beautiful contribution by one of today's true masters."
Gary Campbell – Recording Artist, Author, and Associate Professor of Jazz Studies/Saxophone, Coordinator – Jazz Performance at Florida International University
Joe Lovano Says: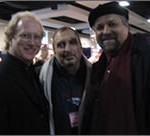 "George Garzone is one of the most visible, heard and respected saxophonists and educators on the world stage today. His influence and contribution are immeasurable in scope. He is constantly working out new ideas and developing his approach to communicate with others and has been doing so for quite some time. George is dedicated to the music and is a constant inspiration to everyone around him, including me.
This amazing DVD, "The Music of George Garzone & The Triadic Chromatic Approach", will have everyone that wants to create music, enlightened and searching for fresh ways of developing new ideas !!! Enjoy the journey, thats whats it's all about."
Joe Lovano – Multiple Grammy Nominee, Gary Burton Chair in Jazz Performance – Berklee College of Music
---
George Garzone Interview with JazzImprov NY Magazine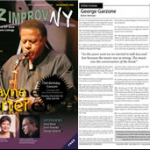 DVD Credits
Published by: JodyJazz Inc.
Produced & Directed by: Jody Espina
Videographer: Kevin Scott
Sound Engineer: Joe Marciano
Written By: George Garzone
Assistant Director: Naoki Iwane
Film Editor: Patricia Buskirk
Artistic Director: Naoki Iwane
Filmed and Recorded at Systems Two Recording Studio – Brooklyn New York
MUSICIANS
Performances by "The Fringe"
Saxophone: George Garzone
Bass: John Lockwood
Drums: Bob Gullotti
With Special Guests:
Vibraphone: Mike Mainieri
Guitar: Chris Crocco
Saxophone: Frank Tiberi