"Tradin' With The Greats"®,
NEXT GENERATION PLAY ALONG
Who Can Benefit From These CD's?
ANYONE WHO:
Wants to Improve their Improvisation Skills
Wants to Improve the way they interpret Jazz Standards
Wants an invitation to sit in on a recording session with some of the greatest musicians of our time
Would like to be inspired to take your playing to the next level and beyond
Wants to improve their time
$37.90Buy Now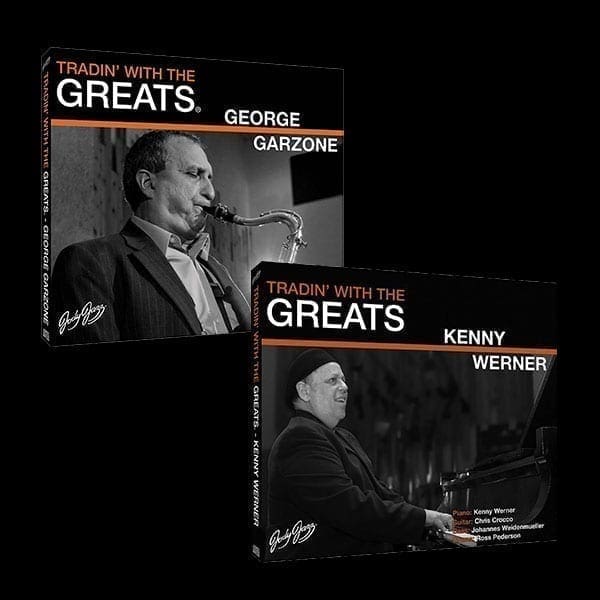 About This CD
"Tradin' With The Greats"®, is the next generation of Jazz Play Along recordings. "Tradin' With The Greats"®, puts you in the band with some of the greatest musicians of our time. Trading is the time-honored tradition where musicians improvise back and forth, inspiring each other to play at higher levels of artistry than they normally reach.
Two CD Disc Sets Include:
Disc I – Trading Play Alongs:
Trade choruses, eights, four's and play the melody with legendary artist's and their working/recording groups.
Disc Two – Pure Play Along:
Improvise with a traditional play-along
Standards:
The songs that every Jazz musician should know
Originals:
Each artist has included a few originals
E-Book:
Concert, Bb, Eb, and Bass Clef Chord Changes to all songs
For All Instruments:
Bass players and drummers should read Technical Notes below
High Fidelity:
Recorded at Systems Two in NYC, one of the finest studios anywhere.
The Concept
The idea behind "Tradin' With The Greats"®, is to have the greatest musicians and their working/recording band make a record and leave space for you. In the case of Kenny Werner, this is the actual trio you would hear if you went to The Blue Note in NYC to hear the Kenny Werner trio. In the case of the George Garzone project, Garzone, Bob Gullotti, and John Lockwood make up the band the Fringe, which has been playing non-stop since 1972. When George said he wanted to use Mulgrew Miller on piano I was ecstatic.
VERY IMPORTANT NOTES
In the E-Book why aren't the melodies of some of the songs written out?
We have transcribed George Garzone's original compositions for you but we have not transcribed the melodies of the other songs which are Jazz Standards. The actual melodies that the composers wrote do not reflect how Jazz players interpret these songs. We want you to lean these songs not as written but as played by a great Artist. That's the idea that all of these tunes (standards were written for Broadway Shows and as almost pop tunes, but Jazz players took them and reinterpreted them. So we are trying to learn to speak in a "Jazz" Accent so to speak. And if we don't do it by ear most people never learn the language, just like learning and speaking a foreign language. So learn these tunes by ear and you will never forget them and you will be able to play them anywhere with anybody.
How do I get to the PDF's on the E-Book?
Insert Disc Two into your computer. To retrieve the E-Books, you will need to open the CD or DVD as a Data Disc, so if your computer automatically opens the CD or DVD with music software such as iTunes, Windows Media Player or DVD player, close or ignore the applications. Locate your Disc Image on your computer (On Mac, it will show up on your Desktop as well as on the side bar of the Finder. On window, disc image is located on My Computer or Computer) Click or double click to open the disc image and drag the e-book to desired location on your computer.
Tradin' With The Greats - George Garzone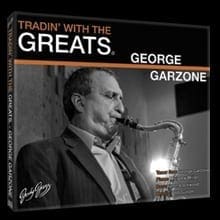 $19.95Buy Now
THE TUNES
1. There Is No Greater Love
2. Softly As In A Morning Sunrise
3. Green Dolphin Street
4. The Mingus That I Knew
5. My One And Only Love
6. Billy's Bounce
7. Tutti Italiani
8. I Love You
9. It Could Happen To You
10. Out Of Nowhere
11. Alone Together
12. Hey, Open Up
Disc 2 Play Along Sample:
MUSICIANS
Tenor Sax: George Garzone
Piano: Mulgrew Miller
Bass: John Lockwood
Drums: Bob Gullotti
Tradin' With The Greats - Kenny Werner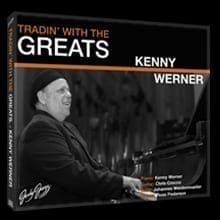 $19.95Buy Now
THE TUNES
1. What is This Thing Called Love
2. Beautiful Love
3. Invitation
4. Stella By Starlight
5. Giant Steps
6. Autumn In 3
7. Yesterdays
8. Lonnie's Lament
9. Autumn Leaves
10. Yump
Disc 2 Play Along Sample:
MUSICIANS
Piano: Kenny Werner
Guitar: Chris Crocco
Bass: Johannes Weidenmueller
Drums: Ross Pederson
Note from Jody
My dream was to see if I could entice some of my favorite Jazz Artists into making a play along, where they played just as if they were making one of their own records. As the producer I told the musicians to "go for it" and not hold back because they were making a play along. The only difference would be that they leave space for you to play and be part of the band. The results far exceeded my expectations. Playing along with these recordings has made me a better player, plus these CD's stand on their own as great albums. I play them all the time just for listening.
Thanks to Nancy and Joe Marciano at Systems Two Recording Studio in Brooklyn NY, for making everything so simple and sound so great. Those of you that have done a lot of recording will know that if you call a session for 11am you might start actually putting down tracks at 1pm at the very earliest and usually much later than that. On the Garzone project we were recording at 11:05 AM and the call was 11AM.
Thanks to the incredible musicians on these two projects: George Garzone, Kenny Werner, Mulgrew Miller, John Lockwood, Bob Gullotti, Ross Pederson, Johannes Weidenmueller and Chris Crocco. They all burned!
CD Credits
Published By:
JodyJazz Inc.
Produced By:
Jody Espina
Artistic Director:
Naoki Iwane
Recording Engineer:
Joe Marciano
Mix & Master:
Joe Marciano, Mike Marciano, Max Ross
Recorded At:
Systems Two Recording Studio, Brooklyn NY
Technical Notes – Rhythm Section Players Read This
"Tradin' With The Greats"®, was recorded like a real album, which means that the drums and bass are not panned hard right and left. Which is to say a bass player for example cannot tune out the bass by listening to only one channel of the stereo. The same thing applies to drummers. There is no way to turn off the drum track. We still feel that "Tradin' With The Greats"® can be an invaluable and fun experience for both drummers and bassists.
On the Kenny Werner, Disc II, Play Along, we have guitar comping most of the time so that pianists can put in their own comping. But we do have Kenny comping on some tunes so that pianists and instrumentalists can hear Kenny's comping.