"The Perfect Mouthpiece for me"
– Derek Brown

JodyJazz DV BEATBoX Tenor
U.S. Patent No. 7,470,844
Buy Now
What Is the DV BEATBoX Tenor – Effortless Control?
Since Derek Brown first began inventing new extended techniques on the saxophone he's been doing it with the JodyJazz DV Tenor Mouthpiece.  We've been working with Derek to perfect a new mouthpiece that would allow him to perform his extraordinary 'Beatbox' techniques with less effort and just the right sound and response. Introducing the new DV BEATBoX Tenor. A silver-plated customized DV mouthpiece in Derek's preferred #5 tip opening. Available now to all saxophonists looking for the type of control it takes to do what Derek does.

Why the DV BEATBoX Tenor?
Derek does a massive amount of slap tonging when performing his 'Beatbox' style, which can be very tiring for the embouchure. Also you have to make the reed fully close against the mouthpiece so it slaps back. This makes the pitch go sharp just like anytime you push up on the reed. Derek played the DV Tenor 8* for many years but as he kept working on new techniques and playing longer and longer solo concerts he started to use smaller tip openings on the DV, first a 7 and then a 6. During this time Derek started to wish he could have a classical tip opening with the DV sound and response. He asked Jody Espina the designer, and maker of the DV if something like that could be possible. So Jody made many prototypes for Derek and in the end he made exactly what Derek was looking for. As you can hear when Derek plays the DV BEATBoX he performs amazing extended saxophone techniques and makes them seem effortless to achieve.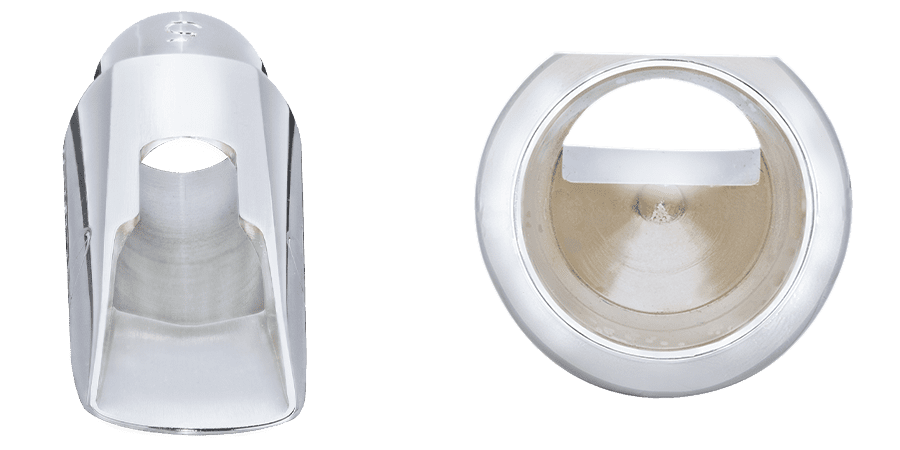 Effortless Power & Beauty
Here, nature, science and imagination combine to create a revolutionary new saxophone mouthpiece. The 24kt Gold Plated JodyJazz DV Tenor sax mouthpiece (U.S. Patent No. 7,470,844) uses proportions and principles found in nature. For the most effortless playing experience of your life, we invite you to try the DV Tenor sax mouthpiece.
Three Goals in Creating the DV Series of Saxophone Mouthpieces
To create the most efficient sax mouthpiece possible. That means that there are more harmonics present in the sound and therefore the projection of this Tenor sax mouthpiece is huge.
To eliminate the annoying shrillness that is associated with loud bright Tenor saxophone mouthpieces.
To have a big fat mid-range and bottom end that has never been present before in a Tenor sax mouthpiece with strong projection.
JODYJAZZ ARTIST TESTIMONIALS
We'd love to hear your thoughts! Click here to submit your testimonial
MAGAZINE REVIEWS
JodyJazz DV BEATBoX Tenor Sax Mouthpiece Price: $850

Free Domestic Shipping (USPS Priority Mail) included. For different shipping options and for Overseas Shipping Prices click the "Buy Now" button and fill in your address. You will be able to see your options and pricing before you actually have to buy the item.
Buy Now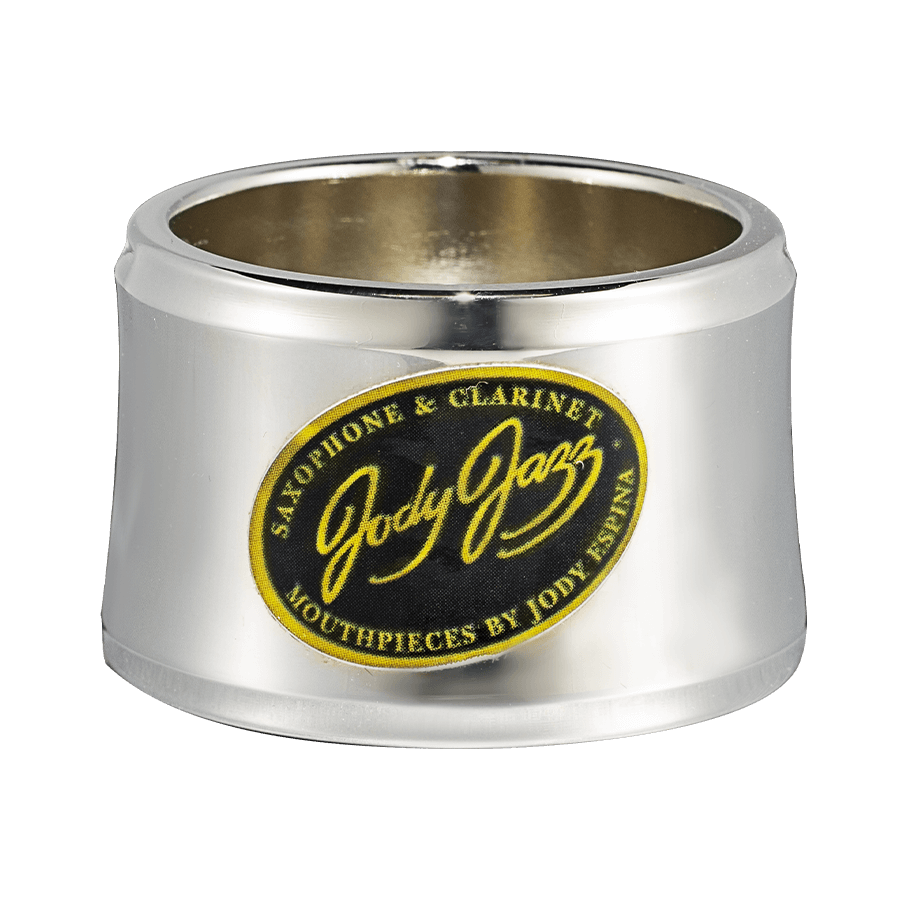 POWER® RING Ligature
This mouthpiece comes with a Ligature but for upgrades, you can look here at our proprietary JodyJazz POWER RING® Ligatures, which we made specifically for this mouthpiece.
JodyJazz DV BEATBoX Tenor Sax Mouthpiece is Available in One Tip Opening
Do you need a facing comparison chart?
CLICK HERE to compare JodyJazz mouthpieces with other brands.
SPECIAL LIMITED TIME OFFER
Get Derek Brown's complete mouthpiece set up at no extra charge!
DV BEATBoX Tenor Special pack includes:
– BG France DUO Ligature Rose Gold & Cap
– Légère Signature Reed
A $179 value absolutely FREE!
Get Yours Now! While Supplies Last!!

BG France DUO Ligature Rose Gold & Cap
Value – $144.95
The rose gold "DUO" metal ligature is handcrafted in France. It provides a balanced/flexible tone for the saxophonist. This ligature offers reed contact/mouthpiece contact in only 4 places. The ligature enables the reed to have the maximum vibrations.
Légère Signature Reed
Value – $33.99

The Legere Signature reed is bright, stable and colored with a full spectrum of overtones. The Signature is thinner and stiffer than a traditional cane reed, making it responsive and articulate in all registers and dynamics. The reed's bright yet focused sound is why it's the preferred reed of advanced and professional players in both jazz and classical settings.
LIMITED TIME OFFER – WHILE SUPPLIES LAST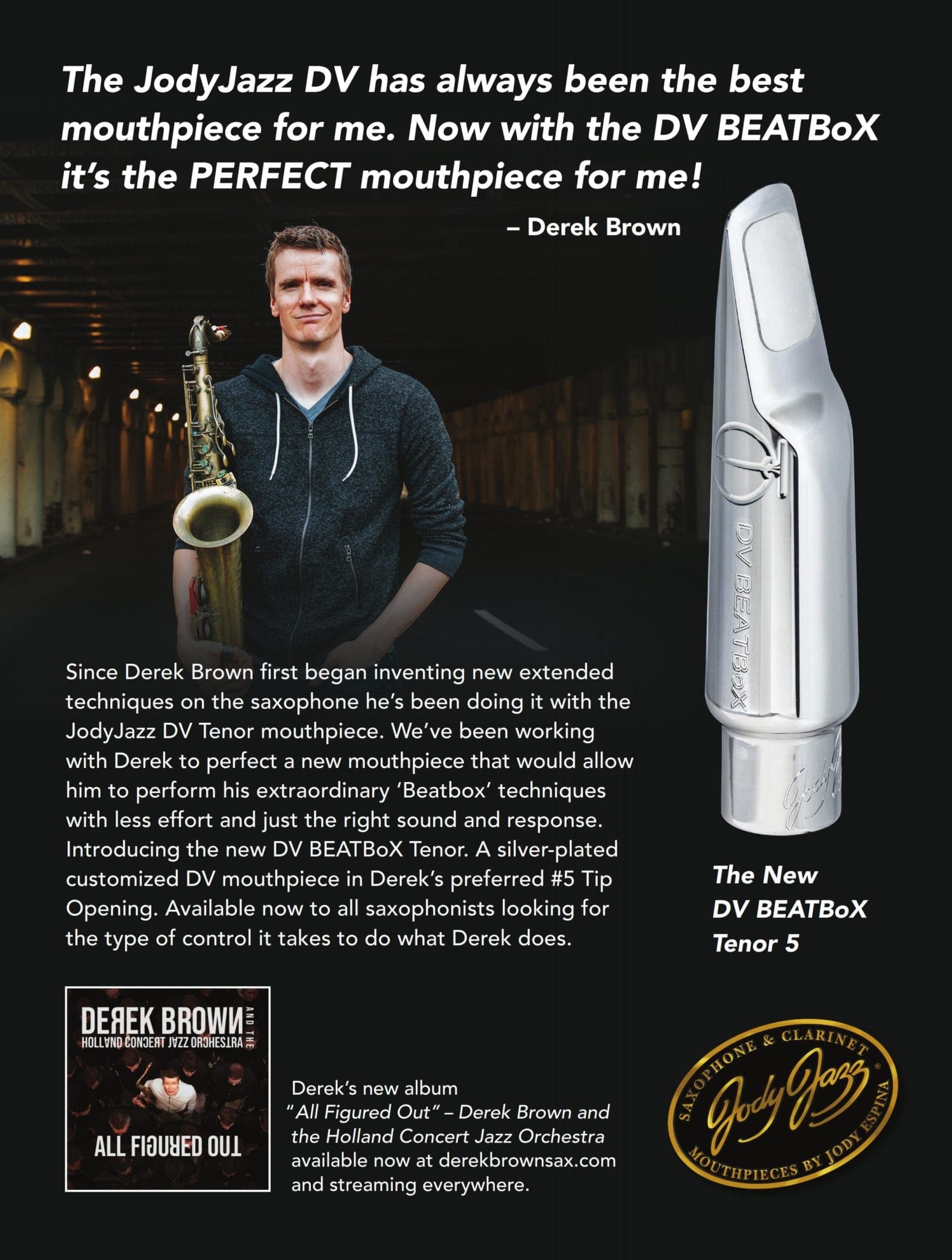 Derek Brown Plays the DV BEATBoX Tenor Mouthpiece
"My playing style necessitates a small tip-opening for more endurance and stable tuning, yet packaged in a powerful, free-blowing mouthpiece. That didn't exist anywhere, until now! The JodyJazz DV has always been the best mouthpiece for me. Now with the DV BEATBox, it's the perfect mouthpiece for me."
Derek Brown
Jody Espina demoing the DV BEATBoX Tenor
What Does The DV Do?
Bigger Fatter Tone
Effortless Playing
More Harmonics
Cleaner Articulation
Power and Projection
Unbelievable Altissimo
Improved Intonation
How Does The DV Do It?
Secondary window
Golden section proportioning
Proprietary CNC facing technology
Perfect radius facing curve
Perfect reed/Tip match
24 kt heavy gold plating
Hand finished baffle, tip rail and table
Play tested by Jody Espina
DV Difference
Phi Proportions – Or the Golden Section Proportioning. The proportions that are found in the Stradivarius Violin, the Nautilus shell, the dolphin, human beings, the Ancient Pyramids and much more, are used for the first time on a saxophone mouthpiece. These proportions result in a chamber that increases harmonics making the sound bigger and richer. For more information about Phi visit at http://www.goldennumber.net

Secondary Window – The moving sound wave inside of the mouthpiece is now able to strike the vibrating reed above the bore of the mouthpiece instead of the mouthpiece material that is usually there. The effect is similar to a moving ball striking a moving bat. Home Run!
New Facing Technology and Curve – We have invested in new CNC technology and have come up with a proprietary way of putting on a new facing curve, which is perfect every time.
"Dream Come True"
The new facing curve results in absolutely no dead spots in the vibration of the reed. In other words, all notes in all ranges respond equally. This tenor sax mouthpiece has a husky barrel-chested tone while being able to sing and soar over the top of any band. Sub toning and low notes are extremely easy and the altissimo is out of this world. Intonation is spot on. Be prepared to have possibly the most fun you ever have had on the saxophone.
Players who now or in the past have played Guardala, Dukoff, Beechler, Jumbo Java, SR Tech, Vandoren V16, Yanigisawa, or any of the bright mouthpieces out there will be sure to love The DV. This is not just another bright mouthpiece. There will be noticeable differences and improvements.
I have found that many straight ahead jazz players who tend to favor mouthpieces that are just a little brighter than most mainstream dark mouthpieces have a very high chance of making the DV their new tenor mouthpiece. We have had many, many converts who came from playing the most popular hard rubber Jazz piece. These players almost always think that they won't like a metal tenor mouthpiece and they are surprised every time.
All saxophone players are amazed to find a saxophone mouthpiece that works so efficiently, where the articulation is clean and one can easily go from low to high and vice versa.
The DV is manufactured on the most sophisticated computer controlled Lathes and Mills, yet the DV benefits from a high degree of hand finishing. The attention to detail in design and finishing given to the DV results in a stunning work of art that plays like a dream come true.

Why is there a warning label on Metal Mouthpieces?
Almost all metal mouthpieces in the past and at the present time are made out of brass which can contain up to 3% lead. The lead in the brass is one of the components that give this particular brass it 's hardness or rather it's softness which makes it have a particularly pleasing sound to musicians. Proposition 65 from the state of California requires manufactures to label any products that have compounds in them that have been found to cause Cancer or Reproductive Harm. Lead is one of these Compounds. JodyJazz mouthpieces are electroplated with a layer of copper, then a layer of Nickel, Silver or Rhodium, and then a layer of Gold or Silver. This electroplating ensures that the raw brass is never in contact with the player.
Do you and your employees use brass mouthpieces?
This is Jody Espina and yes myself and my employees have been using JodyJazz Gold or Silver Plated brass mouthpieces for many years. My first JodyJazz brass mouthpiece was made in 2001 and I have continuously been playing JodyJazz brass mouthpieces since. I played my first metal mouthpiece in 1979 on tenor sax and have always used a brass mouthpiece on tenor sax ever since then.