Effortless Power & Beauty
JodyJazz DV Baritone
U.S. Patent No. 7,470,844
$650.00Buy Now
What Is the DV Baritone Saxophone Mouthpiece?
Jody Espina has introduced the concept of Golden Section Proportions to the art of high end saxophone mouthpiece design. This perfect chamber/bore/facing combination will result in an extraordinary playing experience for you.
Effortless Power & Beauty
Here, nature, science and imagination combine to create a revolutionary new saxophone mouthpiece. Jody Espina has designed the JodyJazz DV (U.S. Patent No. 7,470,844) using proportions and principles found in nature. For the most effortless playing experience of your life, we invite you to try the DV.
Three Goals in Creating the DV Series of Saxophone Mouthpieces
To create the most efficient sax mouthpiece possible. That means that there are more harmonics present in the sound and therefore the projection of this Baritone sax mouthpiece is huge.
To eliminate the annoying shrillness that is associated with loud bright Baritone saxophone mouthpieces.
To have a big fat mid-range and bottom end that has never been present before in a Baritone sax mouthpiece with strong projection.
Also Available for purchase is our proprietary JodyJazz POWER RING Ligature click here for more info.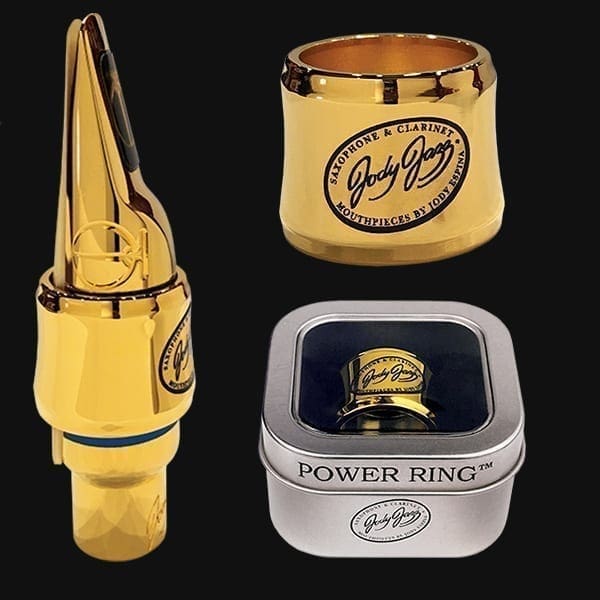 JodyJazz DV Baritone Sax Mouthpiece Price:
$650
The mouthpiece comes witha Gold Plated Rico H Ligature, FF Cap, Mouthpiece Pouch and special metal canister case,free domestic UPS Ground shipping included. (Click "BUY NOW" button to see overseas shipping)
$650.00Buy Now
JodyJazz DV Bari Sax Mouthpiece Available Tip Openings
6 = .100
7 = .110
7* = .115
8 = .120
9 = .130
10 = .140
Do you need a facing comparison chart?
CLICK HERE to compare JodyJazz mouthpieces with other brands.
JodyJazz DV Baritone Saxophone Mouthpiece Demonstration by Jody Espina
Jason Marshall Plays DV Baritone Sax Mouthpiece
François D'Amours Plays DV Baritone Sax Mouthpiece
Testimonials from JodyJazz Artist Endorsers
As Seen on Full Page Advertisements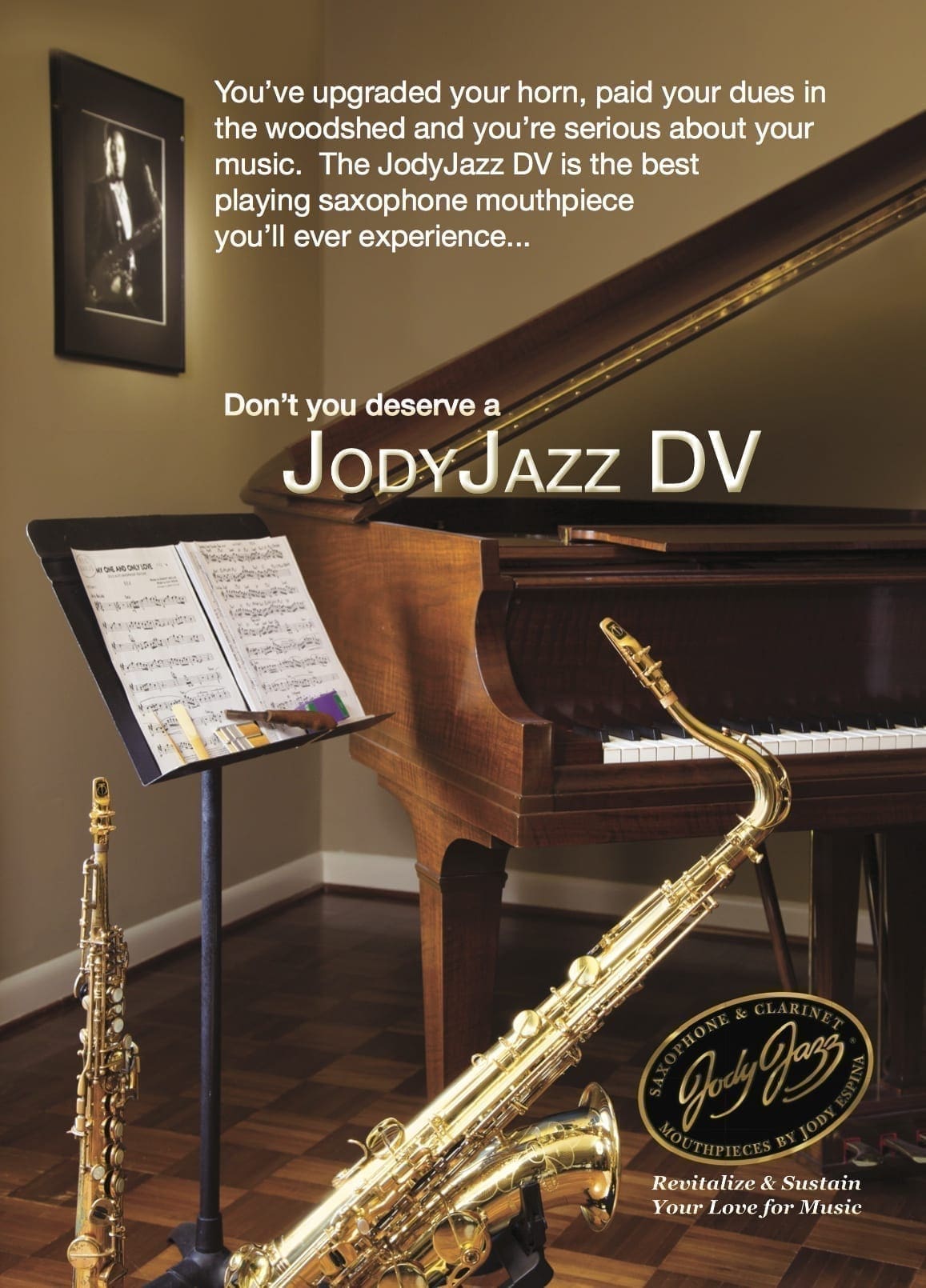 "Dream Come True"
The new facing curve results in absolutely no dead spots in the vibration of the reed. In other words, all notes in all ranges respond equally. This baritone sax mouthpiece has a husky barrel-chested tone while being able to sing and soar over the top of any band. Sub toning and low notes are extremely easy and the altissimo is out of this world. Intonation is spot on. Be prepared to have possibly the most fun you ever have had on the saxophone.
Players who now or in the past have played Guardala, Dukoff, Beechler, Jumbo Java, SR Tech, Vandoren V16, Yanigisawa, or any of the bright mouthpieces out there will be sure to love The DV. This is not just another bright mouthpiece. There will be noticeable differences and improvements.
I have found that many straight ahead jazz players who tend to favor mouthpieces that are just a little brighter than most mainstream dark mouthpieces have a very high chance of making the DV their new Baritone sax mouthpiece. We have had many, many converts who came from playing the most popular hard rubber Jazz piece. These players almost always think that they won't like a metal Soprano mouthpiece and they are surprised every time.
All saxophone players are amazed to find a saxophone mouthpiece that works so efficiently, where the articulation is clean and one can easily go from low to high and vice versa.
The DV is manufactured on the most sophisticated computer controlled Lathes and Mills, yet the DV benefits from a high degree of hand finishing. The attention to detail in design and finishing given to the DV results in a stunning work of art that plays like a dream come true.
What Does The DV Do?
Bigger Fatter Tone
Effortless Playing
More Harmonics
Cleaner Articulation
Power and Projection
Unbelievable Altissimo
Improved Intonation
How Does The DV Do It?
Secondary window
Golden section proportioning
Proprietary CNC facing technology
Perfect radius facing curve
Perfect reed/Tip match
24 kt heavy gold plating
Hand finished baffle, tip rail and table
Play tested by Jody Espina
DV Difference
Phi Proportions - Or the Golden Section Proportioning. The proportions that are found in the Stradivarius Violin, the Nautilus shell, the dolphin, human beings, the Ancient Pyramids and much more, are used for the first time on a saxophone mouthpiece. These proportions result in a chamber that increases harmonics making the sound bigger and richer. For more information about Phi visit at http://www.goldennumber.net

Secondary Window - The moving sound wave inside of the mouthpiece is now able to strike the vibrating reed above the bore of the mouthpiece instead of the mouthpiece material that is usually there. The effect is similar to a moving ball striking a moving bat. Home Run!

New Facing Technology and Curve - We have invested in new CNC technology and have come up with a proprietary way of putting on a new facing curve, which is perfect every time.
"The JodyJazz DV series mouthpieces are hand made to ensure and maintain their highest quality. Demand will not compromise our ability to ensure that every mouthpiece we produce is the best available. When you order one of our mouthpieces, you can be assured that every effort is made to ensure you are rewarded with a product worthy of your investment. That will take time, care and patience. We feel that our DV, DV CHI and DV NY series are worth the wait and we believe you will too. Thanks a lot for your patience.
Special Notes on The DV Bari Saxophone Mouthpiece
Due to the free blowing nature of the DV Baritone and all the DV's, be prepared to use a harder reed than you normally do. This may or may not be the case for you. The great benefit of this is that a harder reed lasts longer and a harder reed helps the altissimo range. For this same reason, you may want to try a slightly more open tip than normal. For example, Otto Link # 7* players, will usually play a DV 8.
" me siento privilegiado al usar una de estas grandiosas boquillas, me proporcionan un gran sonido y estabilidad del mismo su potencia es genial puedo ir de agresivo a sutil de una nota a otra la uso en mi alto y mi tenor ! la verdad es que son una herrramienta fundamental para lograr lo que estoy logrando con mi sax mi recomendacion es total, saludos. www.myspace.com/frank_sax"
Francisco Quintero, Maracaibo, Zulia, Venezuela
---
"Dear Mr. Espina,
Just wanted to check in so you know that I got my DV from Shawna at Pacific winds Music in Eugene Oregon. I had Hashem, a talented sax player play it using my Bronze Yanagasawi bari. WOW, now I know what the two can do. Being probably 50 older than Hashem, my effort
will be considerable less, HOWEVER it is almost impossible for me to believe that a mouthpiece can make such a difference not just in sound but in ease of playing and particularly for old arthritic hands like mine. My joy isn't only in the ease of playing and the sound I now get but from seeing the approving looks on the faces of the "young and not so young bucks" in the band I play in. How sweet to see them enjoying the contribution I am now able to make with this new mouth piece. One trombone player just cannot believe that a mouthpiece can make such a difference - BUT IT DOES!
Everything Jim Scimonette Sr. says in his incredible written piece on your web page is something I would have said - were I a musician and not just a player of a bari. Reading through it though I simply kept shaking my head yes, I agree with each of his points.
So to move on, I am so happy I decided to give myself an incredible birthday present for my 76th birthday. Can't afford it but the joy it will bring if worth any sacrifice I may have to make. THANK YOU"
Jean Weakland, Eugene, Oregon
---
"Jody,
I finally got to seriously play your new Jody Jazz DV Bari Sax Mouthpiece and you are absolutely right...it actually is better than my Jody Jazz ESP Bari Mouthpiece! I couldn't put my horn down! I love playing the new Jody Jazz DV even more then my Jody ESP! This was a huge surprise to me because for the past 4 years I have been strongly convinced that I could never find a baritone sax mouthpiece for me that would ever top my Jody Jazz 120 ESP, and the thought just occurred to me, I think you have more REALLY DIFFERING mouthpiece styles and models for baritone saxophones than anyone else!
When you get old like me your mind wanders off the subject...especially when you get excited, the subject being how I like the new Jody Jazz DV Bari Sax Mouthpiece and what I think of it.
1. It blows VERY free. Like none other. It is in a class on its own. No one looking for a professional class baritone saxophone mouthpiece ought to buy anything until they have at least tried one of these.
2. It has a wide accessible range of tonal colors you can change easily and comfortably, and naturally on a dime without needing to swap out mouthpieces for a brighter or darker tone. I love it!
3. It blows acoustically efficient. People who play baritone sax on a regular basis will know what I mean by this. The big baritone saxophone will naturally ?work you? because it is massive size and displacement. With the wrong mouthpiece setup, the Bari sax player can be blowing their guts out with moderately loud bands and they will still be buried. But when you have an "acoustically efficient? Bari mouthpiece your sound projects well without over blowing. Most important, it projects with a big warm sound rather than having to go real ?bright? to be heard. A Jody Jazz DV Bari Sax Mouthpiece with the correct tip opening and reed strength will not be the cause of an exhausted baritone sax player.
4. The baffle is just right. Not too bright not too dark and the baffle design did not mess with intonation.
5. The attention to detail is fantastic! One thing I love to point out to players as I allow them to try your mouthpieces is how exacting and perfect your tolerances are. This is so important because if something bad happens to a mouthpiece like it gets damaged, lost or stolen, the player is not out of the game. It can be replaced! The replacement Jody will be exactly like the former one. We both know having a great mouthpiece is more important to having a great saxophone. I would rather lose the horn than my JodyJazz mouthpieces. If I have a good mouthpiece, I can make any sax sound great. But it will never sound right if you have a bad mouthpiece on a great sax.
6. Did I tell you how cool the new Jody Jazz DV Bari Sax Mouthpiece looks on my bari? It is an Italian thing Jody...everything has to look good too with us Italians.
Good work Jody...you are truly amazing."
Jim Scimonetti - President Scimonetti Band & Orchestra Instrument Repair Inc.
---
"Hi Jody, I have tested the DV mouthpiece and am very impressed with it so I have sent the ESP mouthpiece back by airmail yesterday. The mouthpiece is everything that you said and more. The sound is fat and strong and what is most impressive is it's ease articulation and clarity to each note.It the best mouthpiece I now have. When I solo it punches through the electrical instruments and kept up to the tenor sax as far as aggression goes. I enjoyed playing the Bari before as a secondary horn but now because of the DV mouthpiece Bari I find that I am getting more requests from fellow musicians to use the Bari. Thanks again I can not express how pleased I am with the mouthpiece. My favorite Tenor mouthpiece I have is the Famous Mouthpiece and Alto mouthpiece is the Famous Mouthpiece. In the new year I would like to try the DV on both of these and compare."
Derek Routledge
---
"Dear Jody and co-workers, The JodyJazz DV Baritone is another Jody masterpiece! Simply great! It'll definitely replace my ESP. Thank you once more very much for all the excellent work and passion that goes into the Jody masterpieces and - as important - into all the kind and careful services that are surrounding them.
With warm regards, yours"
Doelf Weder, Gallen, Switzerland
---
"I`ve been playing baritone for many years and have been using a very good custom mouthpiece for some time. For the last eight years I`ve been the baritone player with the Buddy Morrow/Tommy Dorsey band . I`ve always been a section player and because of that my sound and control of the horn in all registers was of prime importance to me and my section leader. Recently I talked to some long time friends that had been using the JodyJazz mouthpiece. I heard good things about the piece from them which prompted me to try one. I couldn`t believe what I was hearing out of my own horn. The sound was incredible if I do say so myself. In all the years I`ve been playing, backing up singers such as Lynn Roberts, Ray Charles, the Temps, Platters, Stevie Wonder, Steve Lippia, Andy Williams, and the incomparable Judy Garland, eight years with the current Tommy Dorsey Orchestra conducted by Buddy Morrow and others too numerous to mention, I can tell you that this is THE mouthpiece to end all mouthpieces. I`m in no way being compensated for this endorsement. I just felt that if I have purchased something as good for my playing as this mouthpiece I should share it with others. Thanks for listening. I`m listening and loving what I hear."
Ted Thompson
---