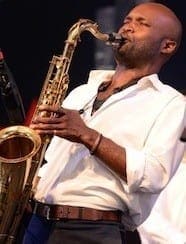 Khari Allen Lee on JodyJazz Mouthpieces
"The Love, Care and Attention to Detail that goes into every Jody Jazz Mouthpiece brings these creations and their technical considerations to the realm of Art. Works like these will be collectors items, and will surely, for posterity, be portals of and amplifiers aiding in the production of the World's greatest, most moving sounds."
Khari Allen Lee Biography
As one of New Orleans' most-in-demand artists, saxophonist, educator, composer, and multi-instrumentalist Khari Allen Lee has shared the stage with such luminaries as Alvin Batiste, Ellis Marsalis, Aaron Neville, Aretha Franklin, , Dr. John, Branford Marsalis, Allen Toussaint, DeeDee Bridgewater, the Treme Brass Band, Leah Chase, Herlin Riley, Shannon Powell, Wes 'Warmdaddy' Anderson, Adonis Rose, Jason Marsalis, Nicholas Payton, Bill Summers, Terence Blanchard, Jeff 'Tain' Watts and more. He is lead saxophonist and touring member of groups including the New Orleans Jazz Orchestra under the direction of Irvin Mayfield, and Delfeayo Marsalis' Uptown Jazz Orchestra.
He earned his B.S. in Music Education from Auburn University, attended the Berklee College of Music as a scholarship recipient, graduating with an Artist Diploma in Professional Music, and earned his M.M. in Jazz Studies from the University of New Orleans as a member of the Louis Armstrong Quintet.
He has served on the faculty of Tulane University, and as Director of Music at the International School Moshi, Tanzania, East Africa at the foot of Mt. Kilimanjaro. Lee currently serves in the Music Department at the prestigious New Orleans Center for the Creative Arts (NOCCA).
He is featured on recordings with New Orleans legend Dr. John (Ske-Dat-De-Dat, The Spirit of Satch, 2014), the Treme Brass Band (New Orleans Music, 2008), trumpeter Jamil Sharif (Diversity, 2012), with drummer Geoff Clapp (Bend In the River, 2014), with Victor Harris and the Fi-Yi-Yi Mardi Gras Indians (Fi Yi Yi & the Mandingo Warriors, 2013), and a recently released album with DeeDee Bridgewater & The New Orleans Jazz Orchestra (DeeDee's Feathers, 2015).
As leader, Khari Allen Lee & the New Creative Collective have released two albums, Conscious Evolution (2012) & Our Great Awakening (2014), both to enthusiastic praise. In 2015, he was chosen as newest artist endorser of the family of Jody Jazz Mouthpieces.