What Is the HR* Soprano Saxophone Mouthpiece?
The HR* is a hard rubber saxophone mouthpiece aimed at professionals and students looking for a traditional versatile mouthpiece. High quality control standards, a beautiful warm sound and a nice free-blowing feel make these soprano saxophone mouthpieces amazing players. We feel that this mouthpiece may be the best hard rubber soprano saxophone mouthpiece on the market.
Warmth & Beauty
We use only genuine, authentic Hard Rubber so the HR* Series has the look, feel and sound of the vintage hard rubber sax mouthpieces that have always been the most highly sought after. These mouthpieces are created on our state-of-the-art 5 axis CNC machine and then meticulously hand finished and play tested.
Three Goals in Creating the HR* Series of Saxophone Mouthpieces
To offer the most traditional style of jazz saxophone mouthpiece: round chamber hard rubber, and demand and obtain the most rigorous quality control possible.
To create a free blowing hard rubber mouthpiece that allows the lowest and highest notes to speak with equal ease.
To make a hard rubber sax mouthpiece that can sound beautiful, but also give good strong projection when necessary.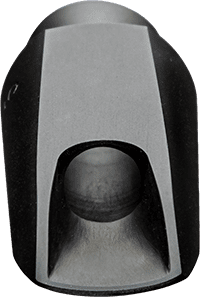 JODYJAZZ ARTIST TESTIMONIALS
We'd love to hear your thoughts! Click here to submit your testimonial
MAGAZINE REVIEWS
JodyJazz HR* Soprano Sax Mouthpiece Price: $219
The mouthpiece comes with Deluxe Mouthpiece Pouch. Free domestic USPS Priority Mail shipping and handling included. (Click "Buy Now" button to see overseas shipping).
Buy Now
JodyJazz HR* Soprano Saxophone Mouthpiece as demonstrated by Jody Espina
Dan White of the Huntertones playing the HR* Soprano 6*, HR* Tenor 8 & HR* Baritone 7
François D'Amours Plays HR* Soprano Sax Mouthpiece

Grant Langford Plays HR* Soprano Sax Mouthpiece
Does Not Include Ligature
This mouthpiece does not come with a ligature. Your current ligature (if you have a hard rubber mouthpiece) should fit this, but you can also take a look here at our H-Ligatures option.
JodyJazz Soprano Sax DV Mouthpiece Available Tip Openings
6* = .065
7* = .075
8* = .085
9 = .090
10 = .100
Do you need a facing comparison chart?
CLICK HERE to compare JodyJazz mouthpieces with other brands.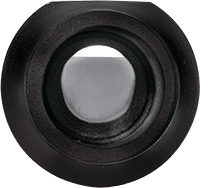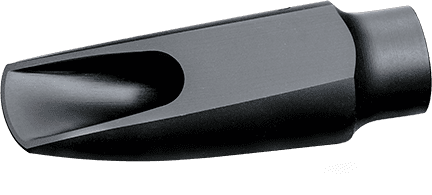 What Does The HR* Do?
Beautiful Warm Tone
Free Blowing
Reed Friendly
Blends Well
Power and Projection
Traditional to Modern Sound
How Does The HR* Do It?
Genuine Hard Rubber Formula
Round Medium Chamber
Even Rails & Tip
Individually Play Tested by Professional Sax Player
Unparalleled Quality Control
Hand Finished Baffle, Tip Rail and Table
"Versatility"
The HR*soprano mouthpiece is a round chamber mouthpiece which provides a round sound in contrast to a more focused sound which a square chamber provides. This allows the HR* to sound very pretty and the medium chamber allows the piece to have very good projection when pushed.
Players who now or in the past have played Meyer, Otto Link, Bari, Vandoren, Yanigisawa, or any of the straight ahead hard rubber Jazz mouthpieces out there will be sure to love The JodyJazz HR*. The differences come from our particular facing curve, the exact size and shape of the chamber and our commitment to quality control.
I have found that many players who have been playing a hard rubbersoprano sax mouthpiece for many years are in need of a replacement ( due to waer and tear) and do not know where to turn. We have had many many converts who came from playing the most popular hard rubber Jazz pieces. These players are almost always surprised at the quality and consistency of JodyJazz hard rubber soprano mouthpieces.
Special Notes on The HR* Soprano Saxophone Mouthpiece
Many different sounds are possible on the JodyJazz HR* hard rubber soprano mouthpieces. For example: For in a Classical style try our # 5 model with a relatively hard reed. For a sound similar to Branford Marsalis use a HR* 6* – 7* with a medium reed like you might normally use. Play softly and you will hear that beautiful sound with a hint of air it. Play loudly and you will get the power you need. These are just the broadest suggestions. The real answer about sound is for you to experiment and find out what works for you.

Why is there a warning label on Metal Mouthpieces?
Almost all metal mouthpieces in the past and at the present time are made out of brass which can contain up to 3% lead. The lead in the brass is one of the components that give this particular brass it 's hardness or rather it's softness which makes it have a particularly pleasing sound to musicians. Proposition 65 from the state of California requires manufactures to label any products that have compounds in them that have been found to cause Cancer or Reproductive Harm. Lead is one of these Compounds. JodyJazz mouthpieces are electroplated with a layer of copper, then a layer of Nickel, Silver or Rhodium, and then a layer of Gold or Silver. This electroplating ensures that the raw brass is never in contact with the player.
Do you and your employees use brass mouthpieces?
This is Jody Espina and yes myself and my employees have been using JodyJazz Gold or Silver Plated brass mouthpieces for many years. My first JodyJazz brass mouthpiece was made in 2001 and I have continuously been playing JodyJazz brass mouthpieces since. I played my first metal mouthpiece in 1979 on tenor sax and have always used a brass mouthpiece on tenor sax ever since then.