Category Archives:
HR* Soprano
[vc_row padding_top="0px" padding_bottom="0px"] [vc_column fade_animation_offset="45px" width="2/3"]
---
I find that the JodyJazz HR* Alto piece was powerful, had great projection, bright, warm, free blowing, modern sound, and beautiful rails!
---
---
"… the most inspiring were the DV alto mouthpieces. Bright, full of harmonics and brassy without being shrill, the DV altos projected effortlessly in all ranges, with an especially wailing altissimo. It was easy to play quiet and low with a fat, full sound. Intonation was spot-on."
---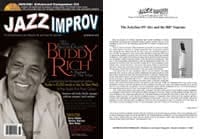 …responsive, …rich darkness and warmth,…plays well in all of the registers, and has a sweetness that compliments the naturally bright frequencies of the soprano.
[/vc_column] [vc_column fade_animation_offset="45px" width="1/3"] [vc_widget_sidebar sidebar_id="ups-sidebar-blog-bar"] [/vc_column] [/vc_row]