Kwang Saxpackgirl on the DV Tenor 7* & Pang Saxpackgirl on the Super Jet Alto 7
Kwang Saxpackgirl on the DV Tenor 7*

"My JodyJazz DV Tenor 7* mouthpiece is the most important part of my Tenor Saxophone. Any kind of band or music that I have to play, my JodyJazz mouthpiece makes me smile and enjoy the sound."

Pang Saxpackgirl on the Super Jet Alto 7

"As soon as I played the JodyJazz Super Jet Alto for the first time, I knew immediately it was the best mouthpiece I have ever had. It has a great tone and is easy to blow even high register. Mr. Jody you're always right, JodyJazz Mouthpiece "Made by player for players". I can confidently say that JodyJazz is "world class quality" mouthpiece."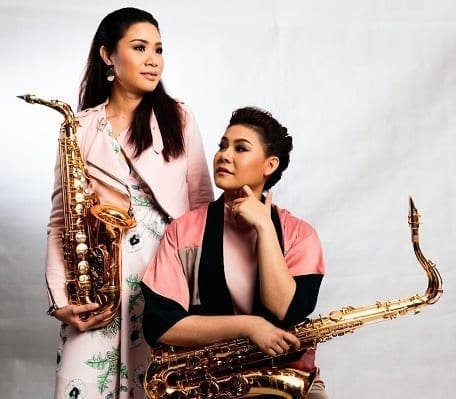 Saxpackgirl Biography
Saxpackgirl, the most prominent Two of Thai female Saxophonists established by Kwang Saxpackgirl and Pang Saxpackgirl , since 2015
Saxpackgirl has been doing covered songs through YouTube and their Facebook fan page named "Saxpackgirl" which has more than million viewers now.
They have numerous expertise and provided Saxophone instruction and training. They are also willing to share a useful information about Saxophone and other music instrument.
Saxpackgirl are involved and previously played in many music events such as Bangkok Jazz Night 2015, Saxpackgirl live in Malaysia 2017, Huahin International Jazz Festival 2017, etc.
In February 2017, Saxpackgirl released their first mini album to the public. And In October 2017 they first released "Saxpackgirl : Dream a night like this", the full album which be produced and recording by Thai finest musicians such as Koh Mr.Saxman , Duck Suthipong (Drums) and Game Puttikorn(Guitar).
This album released to first public at "P.Mauriat" in Taipei and Shanghai "Music China".