What Is the JET Baritone Saxophone Mouthpiece?
The JodyJazz JET Baritone Saxophone mouthpiece has a clean, focused sound with strong projection, cut and 'bark' and yet can be played with a warm versatile feel. The JodyJazz JET Baritone Saxophone mouthpiece is free blowing, easy and fun to play mouthpiece that captures the full range of tonal qualities of the instrument. The JodyJazz JET is excellent for Big Band, Rock, Funk, Blues, Smooth Jazz and Latin Music, Reggae, Ska, Funk, Hip Hop, Top 40, Duranguense, Merengue, Salsa, Cumbia, Compa, Tejano, Musica Popular Brasileira. We think that many Baritone sax players will be surprised at how well it plays in a big band due to its blending capabilities. In other words, the JET is a great saxophone mouthpiece that seems to appeal to a very broad variety of players. The thing to remember is that no two players are alike so that it's all about finding the mouthpiece that responds to your morphology (physical makeup). Morphology means that you have a chamber in your mouth and throat which reacts with the mouthpiece so some people sound better on a small chamber mouthpiece like the JET and some people sound better with a larger chamber piece like the JodyJazz HR*.
If you like the Baritone sax sounds of Doc Kupka of Tower of Power, Ronnie Cuber, Bruce Johnstone, Nick Brignola, Jeff Coffin of Dave Mathews, Roger Lewis of the Dirty Dozen Brass Band or Jason Marshall, then you are sure to love the new JET Baritone.
Four Goals in Creating the JET Baritone Saxophone Mouthpiece
BRIGHT – To create a bright free blowing mouthpiece that is versatile while having more projection than most mouthpieces.
ALTISSIMO – To create a mouthpiece that easily produces great altissimo notes. The altissimo is actually helped by our new shorter facing curve, which is brand new to the JET. Most baritone players don't deal with altissimo as much as they do on the other saxophones but those players who like to play altissimo on baritone will be amazed at how well those high notes will speak.
GREAT PRICE – To make an affordable sax mouthpiece that can be made with the same cutting edge technology as our metal sax mouthpieces, but costs much less than a metal mouthpiece.
GREAT QUALITY – Each mouthpiece is individually play tested by Jody Espina or one of our professional saxophonists on staff to ensure a perfect seal with the reed and proper response throughout the range of the saxophone. We demand and achieve the most rigorous quality control possible.
JodyJazz JET Baritone Sax Mouthpiece Price: $299
The mouthpiece comes with Deluxe Mouthpiece Pouch. Free domestic USPS Priority Mail shipping and handling included. (Click "Buy Now" button to see overseas shipping).
Buy Now
JodyJazz JET Baritone Sax Mouthpiece Available Tip Openings
6 = .100
7 = .110
8 = .120
9 = .130
10 = .140
Do you need a facing comparison chart?
CLICK HERE to compare JodyJazz mouthpieces with other brands.
Does Not Include Ligature
This mouthpiece does not come with a ligature. Your current ligature (if you have a hard rubber mouthpiece) should fit this, but for upgrades on the ligature you can look here at our POWER RING Ligatures which we made specifically for this mouthpiece. You can also take a look here at our H-Ligatures option as well.
The JET Difference
5 Axis CNC Machining – Allows for extremely precise manufacturing and repeatability.
Unique Design – The unique inner shape of the JodyJazz JET Baritone Saxophone Mouthpiece gives it a unique sound and feel.
New Facing Curve – Allows for great altissimo.
What Does The JET Do?
Clean Focused Bright Sound
Free Blowing
Easy Altissimo
Responsive Low End
Power and Projection
Versatility
How Does The JET Do It?
Small Chamber
Precision – CNC Machined
Shorter, Proprietary Facing Length
Hand Finished Baffle and Tip Rale
Play tested by Jody Espina or Staff
As Seen on Full Page Advertisements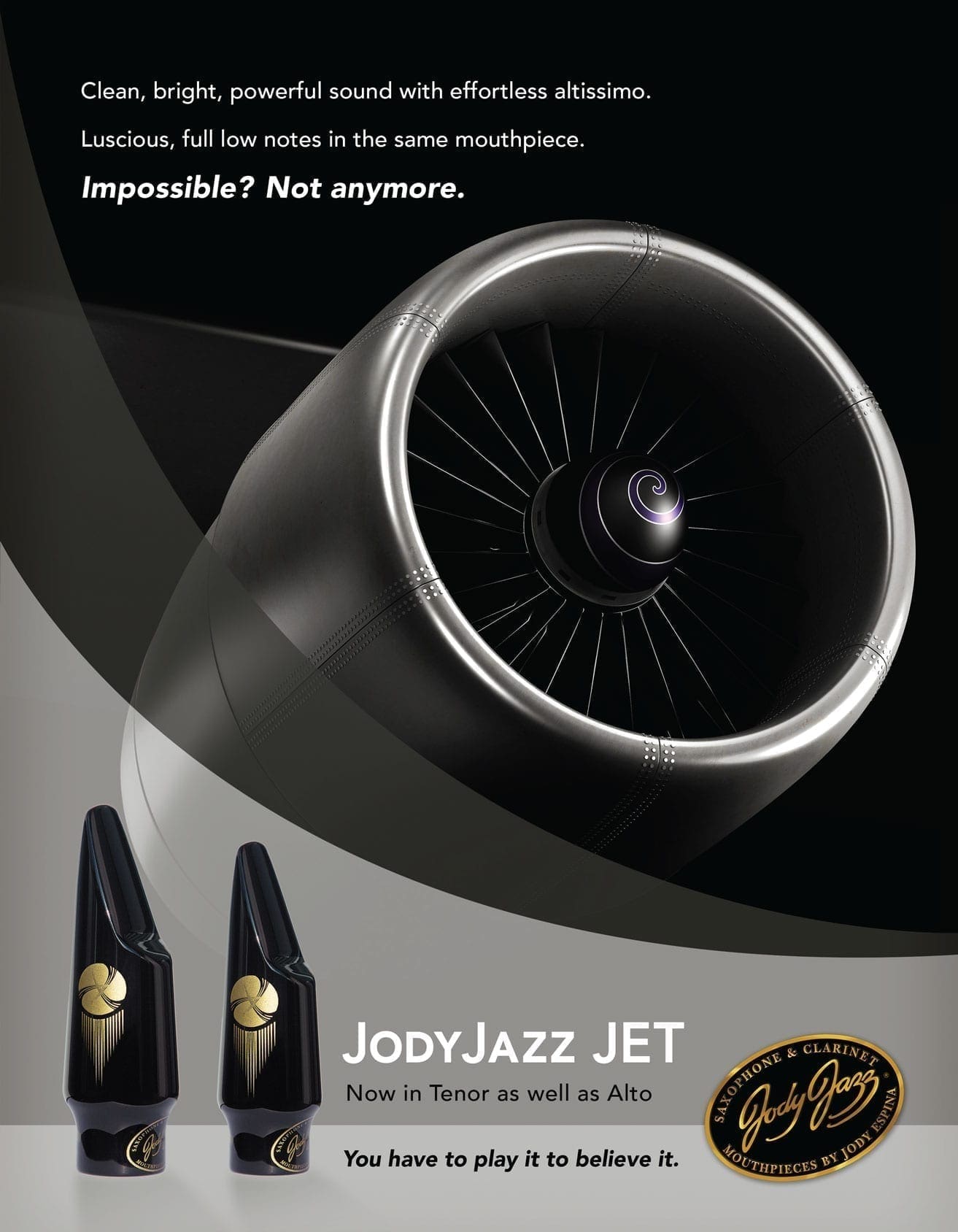 Special Notes on the JET Baritone Saxophone Mouthpiece

Due to the shorter facing curve on the JET, a softer reed than you might normally use could be appropriate. This is because the reed actually has less length in which to vibrate. This doesn't hinder playing at all, in fact it makes the JET one of the greatest altissimo pieces of all time. Altissimo still works great with a little softer reed. These are my observations and how I like to play the JET. For example, on a JodyJazz DV Baritone 7 I play a Rico Jazz Select 3M and on the JET I prefer a 3S. The JET is still free-blowing but I think the JET's shorter facing curve makes a difference with the reed. The main message is that anytime you are trying a new mouthpiece two things are very important: finding the right reed for the mouthpiece and making sure that while you try the mouthpiece you are in tune. Don't assume that it will go on the neck in the same place as your previous mouthpiece. In fact the JET pushes on further than many mouthpieces. I love the JET and I hope you will too.
Jody Espina – President, JodyJazz
Hand Finished and Play Tested
Every JodyJazz mouthpiece is hand finished to ensure the absolute best quality. In addition, each mouthpiece is individually play tested by Jody Espina or one of our professional saxophonists on staff to ensure a perfect seal with the reed and proper response throughout the range of the saxophone.