Category Archives:
DV Tenor
[vc_row padding_top="0px" padding_bottom="0px"] [vc_column fade_animation_offset="45px" width="2/3"]
---
---
"Good day. I hope this email finds its way to Jody. He will with all likelihood have zero remembrance of me; zero. At the age of 53, I began taking music lesson here in CT and learning to read music. At approx. 22 months, I purchased my Yamaha, Custom EX and began researching mouthpieces. At some point I emailed Jodyjazz with questions and to my surprise, I received a phone call from Jody. In part, because of that call, I became a customer and purchased the DV for tenor. Rather recently, I purchased the DV Chi. You should know, that the customer service when I purchased my DV Chi was also outstanding. Other than the mouthpiece that came with the horn, Jodyjazz is the only mouthpiece I have ever owned. I thought you'd like to know, that this summer, with 4 years of training I entered a new jazz competition and subsequently became the first winner, of the Hartford Jazz Society's Emerging Jazz Artist competition (2017). I will begin my 5th year of training in February 2018 and as you know, I have a lot to learn, but I will be doing it with my JodyJazz mouthpiece.; Thank you for helping me to begin my journey toward fulfilling a dream. A loyal customer, Gregory B. Sneed (GB)"
---
Dear Jody Jazz Team….. a week ago I received my new Jody Jazz DV for Tenor Sax along with the Power Ring Ligature. I LOVE IT. Here's some information you may find helpful. Using a reed that is "perfect" for your old mouthpiece probably won't work. After soaking my new reeds I found it very helpful to aggressively rub the taper on the reed to "seal" the fibers. Then gently bending the reed between my thumb and fore finger loosened it up for the initial playing. Finally, firmly pressing the reed onto the mouthpiece while tightening the Power Ring also made a big difference. The bottom line here is that if you don't work to get a good reed on this setup you may be frustrated with what can be an almost too bright (brassy) sound or one that is hard to control. With the proper reed, however, you very quickly master this phenomenal mouthpiece to create what ever sound you are looking for. Finally, I've never had a setup that held intonation perfectly from one end of the horn to the other…. a feature you need to market more aggressively). I play a Big Bell, Stone Series Cannonball, use Vandoren Jazz reeds (red and green) and do both solo and band work. I can use this tool to blend within a section or stand up for solo work and cut through any background. If you ever have a potential customer who is unsure if the cost of this setup is worth it, I'd be happy to offer a testimony. Thanks again for offering such a wonderful product.
---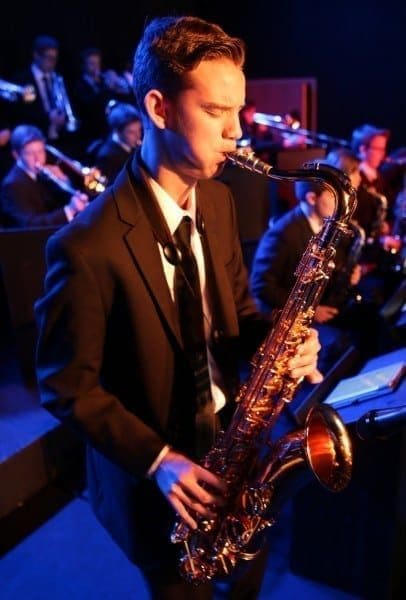 "A world-class big band is impossible without a sax section that truly blends. JodyJazz mouthpieces give the Crescent Super Band the consistency, precision, and tone necessary across all our saxes for that to happen. "
---
"Jody Just purchased a Tenor DV and an HR mpc for my late model Mark VI from wwbw. I want to share my experience with you. I use the HR when playing along with my sax students but the DV is for me. Like most sax players the perfect mpc is the holy grail…………I know you've heard this many times. I was reluctant to switch from my Sugal which I've played for years but was frustrated with a weak low end and inconsistent altisimo. So I gambled and tried your 7* DV which is not as open as my Sugal at 118. But I wanted a fatter and more reliable low end. The DV came through. It took a little experimenting with reeds. My broken in reeds didn't play very well and I realized that a stiffer reed was required. I'm using Alexander and Rico Jazz #3. They do the job. I do a smooth/contemporary jazz gig and the projection is great and amazingly the speed of my playing has greatly improved. The notes seem to pop out almost before I hit them. The stuffiness of middle D is gone. I thought it was a leak in the horn or just the nature of my "VI". But I now have a solid middle D !! I'm also discovering improved intonation on palm keys and higher. Truly a great mpc. For the HR I found a good set up using Alexander NY reeds. It's a sweet mpc, very versatile, but I need to spend more time with it. Regards"
---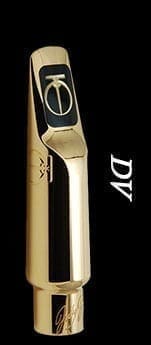 "It is easily the best sax mouthpiece I've ever played and I really enjoyed being able to take a reed right out of the box, and have the ability to play very loud or very softly without any trouble at all. From low to high, everything comes out clean and crisp. I'd like to say that after playing the DV, it is easy to see that the quality just towers over all other current sax mouthpieces, and more than a few of the vintage one's I've played."
---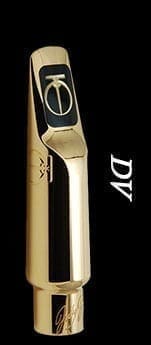 "I tried the DV model and as every sax players in the world i find it wonderful, no more words , congratulations for your work.And of course i WANT ONE!!!! "
---
Well, it works great compared to the Rovner. I'm just amazed and very happy. If you recall I was the guy at the NAMM show who didn't like the reed cap. I got over it. I've played the new ligature on a couple of gigs now and just delighted with the additional response and ease in the bottom end of the horn. It also seems to make more reeds playable. This ligature is a great product and a perfect complement to the DV.
[/vc_column] [vc_column fade_animation_offset="45px" width="1/3"] [vc_widget_sidebar sidebar_id="ups-sidebar-blog-bar"] [/vc_column] [/vc_row]