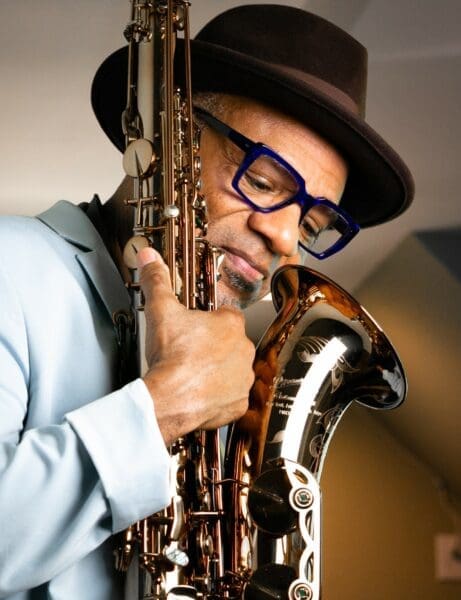 Hear Kirk playing the Hand-Hammered HH Tenor
Kirk Whalum on his Hand-Hammered HH Tenor and HR* CUSTOM DARK Soprano
"Bro, the new mouthpiece is killing!! And GORGEOUS. I'm in love with it! Thanks #JodyJazz for creating the great Hand-Hammered HH Tenor and HR* CUSTOM DARK Soprano mouthpieces! The difference between a good and a GREAT mouthpiece is that the great one is transparent. Jody has this stuff down to (literally) a science. Why not do what it takes to sound like You!"
Kirk Whalum Biography
Soulful, passionate, stirring...these are the words most often used to describe Kirk's music. Forged from his Memphis, (TN) gospel roots and his 1980's initiation into the thriving Houston, TX nightclub scene, Kirk's big, rich tenor sound is unmistakably his. The 80's were highlighted by Kirk's stepping out of his blossoming sideman role and forming his own band. It was there that Kirk ultimately developed both his "voice" and songwriting in the crucible of the local club scene––especially at a rooftop club called Cody's. It was also in Houston where jazz pianist Bob James "discovered" him and brought him on tour, which led to five successful albums with Columbia Records, including Cache, Kirk's first #1 album. As well, Kirk and Bob received a Grammy nomination for their collaboration album, Joined at the Hip. After moving to Los Angeles, Kirk became an in demand session player for top artists like, Barbara Streisand, Al Jarreau, Luther Vandross, Larry Carlton, Quincy Jones and most notably, Whitney Houston, amongst many others. It's his sax heard on the mega-hit, "I Will Always Love You." Kirk soon followed that career high point with his phenomenal hit album released on Warner Bros. Records, For You, perhaps the most successful of over 25 solo recordings to date; others include his eclectic, and much lauded, Gospel According to Jazz series, (Chapters 1, 2, 3 and 4). In addition to his many solo projects, Kirk was also a member of the popular soul/jazz group, BWB, which features Kirk as the "W" of the group with Rick Braun (trumpet) and Norman Brown (guitar).
An ordained minister, Kirk has earned a Masters of Art in Religion. It's in this spirit that he serves his community in various ways when his touring schedule allows. There is also his daily fifteen minute podcast, Bible In Your Ear (BIYE), in which he invites you to listen along as he reads through the Bible in a year. In addition to music and ministry, Kirk has a passion to educate young, aspiring musicians and is currently engaged as a music professor at Visible Music College in his hometown of Memphis.
Kirk is the recipient of numerous awards and acknowledgements for his musical excellence including three Dove Award nominations, an NAACP Image Award nomination and has won two Stellar Awards-Gospel music's highest honor. A twelve time Grammy nominee, Kirk won his first Grammy award (2011)for Best Gospel Song ("It's What I Do"––featuring Lalah Hathaway) alongside life-long friend and gifted songwriter, Jerry Peters.
In a career spanning decades, Kirk has a sound that is uniquely his; it is a sound that leaves an indelible imprint on the listener.
SHARE THIS POST
Image Gallery