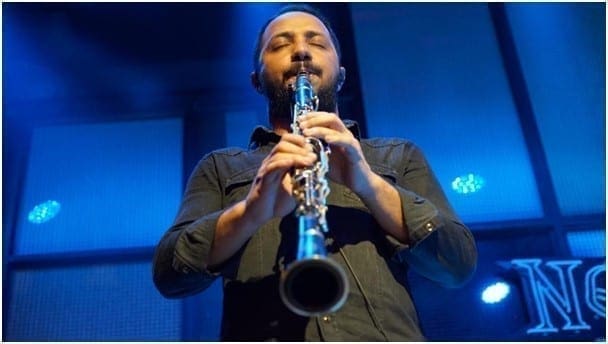 "My JodyJazz mouthpiece allows me to play microtone sounds in Turkish Music very easily. It feels very natural and flexible at the same time… Does not matter how many different styles I play, I still keep my personal sound."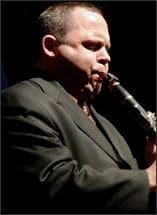 Ryan Burrage on the JodyJazz HR* Clarinet:
"I play the JodyJazz HR* 9 Clarinet mouthpiece on all of my gigs. My style, partially rooted in the New Orleans Creole clarinet tradition, requires a larger tip opening than what is available from other mouthpiece manufacturers. Projection is fabulous and intonation is spot on with a beautiful tone. It is a free-blowing clarinet mouthpiece that you don't need to fight to play.
I also use the Chedeville Kaspar CB1 64mm, 65mm, and 66mm clarinet barrels. While these barrels do indeed look cool, they actually help with projection and intonation. I always have these 3 barrels in my case to help with intonation as needed."
Ryan Burrage on the JodyJazz JodyJazz GIANT Garzone Signature Model 10* and SUPER JET Tenor 9*:
"When I'm called to play tenor for more traditional jazz/swing work, I play the JodyJazz GIANT Garzone Signature Model 10*. As Jody describes it, the mouthpiece provides a BIG sound, but not LOUD. I find it is well-balanced throughout the range, blends well with the ensemble, and the larger tip opening helps with projection. Intonation is spot on and it is very free-blowing, despite the larger tip.
If I am called for more R&B/Jump Swing styles, I use the Super Jet 9*. I first tried the Super Jet at JEN 2020 in New Orleans at the JodyJazz booth, and I was blown away with the projection, tone, and intonation. It's a mouthpiece that turns heads and definitely has a "wow" factor. As is the case with all of Jody's mouthpieces, it is also free-blowing and easy to play."
Ryan Burrage on the JodyJazz DV Soprano Sax Mouthpiece:
"Jody, got the DV 8* soprano mouthpiece today. Wow! Just wow! As you know, I'm heavily influenced by Sidney Bechet, and this mouthpiece gets me as close to that sound as I think you can get! I also will use a slightly harder reed to achieve a mellower sound in a more contemporary setting. Overall, this is the most flexible soprano sax mouthpiece I've ever tried – the best of both worlds."
Ryan Burrage on the JodyJazz DV Alto Sax Mouthpiece:
"I'm loving the DV 8. Tonal flexibility and complexity at its best. I can play contemporary or traditional with this mouthpiece, depending on my approach. If I push it, it wails – if I lay back on it, it's just a beautiful mellow sound. Everything from Bird to Earl Bostic and beyond can be covered with this mouthpiece!"
Ryan Burrage on the JodyJazz DV Tenor Sax Mouthpiece:
"Tenor saxophones, and mouthpieces for that matter, are tricky for me. Perhaps it's because of the wide array of influences I have on tenor. I tend to use a different mouthpiece on tenor for different scenarios. If I want to wail and honk, I use the DV 9*. If it's a Zoot Sims, more mellow type of sound I'm looking for, I'll use the DVNY 9*."
Ryan Burrage on the JodyJazz DV Baritone Sax Mouthpiece:
"I don't get to play baritone sax too much, but when I do, I use the DV 9. Because I don't play bari a lot, I need it to be ready to play when I pick it up, and that's exactly what the DV 9 does for me – it practically plays itself! Other than the size of the horn, I generally feel as though I am playing alto or tenor, and forget about the fact that I'm playing the much larger baritone sax! Thanks a lot!"