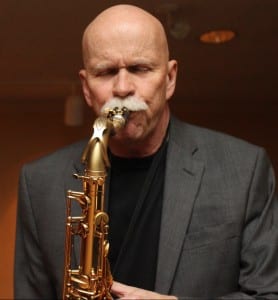 John Paulson on the DV Tenor 7 and HR* Tenor 8* Mouthpieces
"I've played JodyJazz tenor mouthpieces since the early days including the ESP, and different versions of the DV's. They all have their own unique and even playing character throughout the range of the horn. However, I've now settled on one of his original #7 DV's for situations where I want a sound big enough to fill a room without at PA and still retain a smooth, dark tone. For situations where I need to play more quietly with an even darker tone, I bring Jody's HR* Tenor with an 8* facing and it gives me a lush sound with a lot of depth and warmth while still being able to project without feeling stuffy. Jody has a range of mouthpieces to suit virtually every player's needs and I've always recommended them to players I meet including pros, teachers and students."
John Paulson Biography
John Paulson earned his B.M. and Master of Music degrees from the University of Utah in Salt Lake City and his D.M.A. in music education from the University of Washington in Seattle. He studied flute and clarinet with players in the Utah Symphony and the Los Angeles Chamber Orchestra, jazz arranging with Henry Wolking and Jan Kanopasek and studied jazz improvisation on sax and flute with famed improvisation teachers Garry Dial, and Dave Liebman. His jazz groups have performed throughout the Midwest for over 30 years and he has performed internationally with jazz groups from Saint Mary's University where he retired from over 30 years of teaching in 2012. He is now professor emeritus at Saint Mary's University of MN and an adjunct instructor at Winona State Universities in Winona, MN. As a freelance artist, Dr. Paulson has performed with The Cab Calloway Orchestra, Mel Torme, Andy Williams, Bob Hope, The Temptations, Johnny Mathis, and The Pioneer Memorial and Repertory Dance Theatres in Salt Lake City. In the last 20 years, he has produced six commercial jazz CD's and done 5 Master class CD's for the Saxophone Journal. His CD's have received airplay and excellent reviews throughout the Midwest. These CD's are available at www.cdbaby.com and iTunes plus numerous digital download and streaming sites.
His latest CD & DVD recording, The John Paulson Big Band Project, features 10 originals recorded live and in the studio. Scores & parts from the big band project are available worldwide from walrusmusic.com or eJazzLines.com. The JPBB recording project and 2012 premiere performance were funded by a grant from the McKnight Foundation and the Southeastern Minnesota Arts Council. His big band has recently been accepted to perform at the national JEN (Jazz Educators Network) convention January 7, 2016 in Louisville, KY.
Dr. Paulson officially endorses JodyJazz sax mouthpieces & accessories. He is a member of ASCAP, the American Composers Forum and JEN (The Jazz Educators Network).