What is the DV NY Baritone Saxophone Mouthpiece?
The DV NY for Baritone Sax will appeal to the Straight Ahead player looking for the best playing and sounding baritone mouthpiece that he or she can find. The mouthpiece is based on our popular DV model but has several modifications, the most significant being a deep chamber which results is a dark warm beautiful baritone saxophone sound. We've had great response from "Link" players looking for a more free blowing mouthpiece. The DV NY is for Baritone sax players that want a beautiful rich traditional bari sax sound and also want a free blowing mouthpiece.
Effortless Vintage Sound
Jody Espina has introduced the concept of Golden Section Proportions to the art of high-end saxophone mouthpiece design. This perfect chamber/bore/facing combination will result in an extraordinary playing experience for you.
The DV NY produces a darker, less bright tone than the contemporary sound of the DV. The deep baffle/chamber design of the DV NY produce a beautiful Classic Jazz Baritone Saxophone sound reminiscent of the masters of the 50's and 60's. Think Mulligan, Harry Carney, Pepper Adams etc.
Three Goals in Creating the DV NY Bari Saxophone Mouthpieces
To create the most efficient mouthpiece possible. That means that there is no stuffiness and little resistance.
To emulate the sound of the Classic 50's and 60's Baritone Sax players, while giving the sound an extra fatness from the secondary window.
To produce the most beautiful tone on any JodyJazz mouthpiece so far.
JODYJAZZ ARTIST TESTIMONIALS
We'd love to hear your thoughts! Click here to submit your testimonial
MAGAZINE REVIEWS
JodyJazz DV NY Baritone Sax Mouthpiece Price: $750
The mouthpiece comes with a Rovner Star Series Ligature, Cap, Deluxe Mouthpiece Pouch and Metal Canister. Free domestic USPS Priority Mail shipping and handling included. (Click "BUY NOW" button to see overseas shipping)
Buy Now
JodyJazz DV NY Baritone Saxophone Mouthpiece Demonstration by Jody Espina
JodyJazz DV NY Bari Saxophone Mouthpiece Available Tip Openings
The most popular tip opening range will be 7*, 8,. Players seem to prefer a size larger than what they would comparably play on a Link, for example, due to the relatively free blowing nature of the DV NY.
6 = .100
7 = .110
7* = .115
8 = .120
9 = .130
10 = .140
Do you need a facing comparison chart?
CLICK HERE to compare JodyJazz mouthpieces with other brands.
Also Available for purchase is our proprietary JodyJazz POWER RING Ligature CLICK HERE for more info.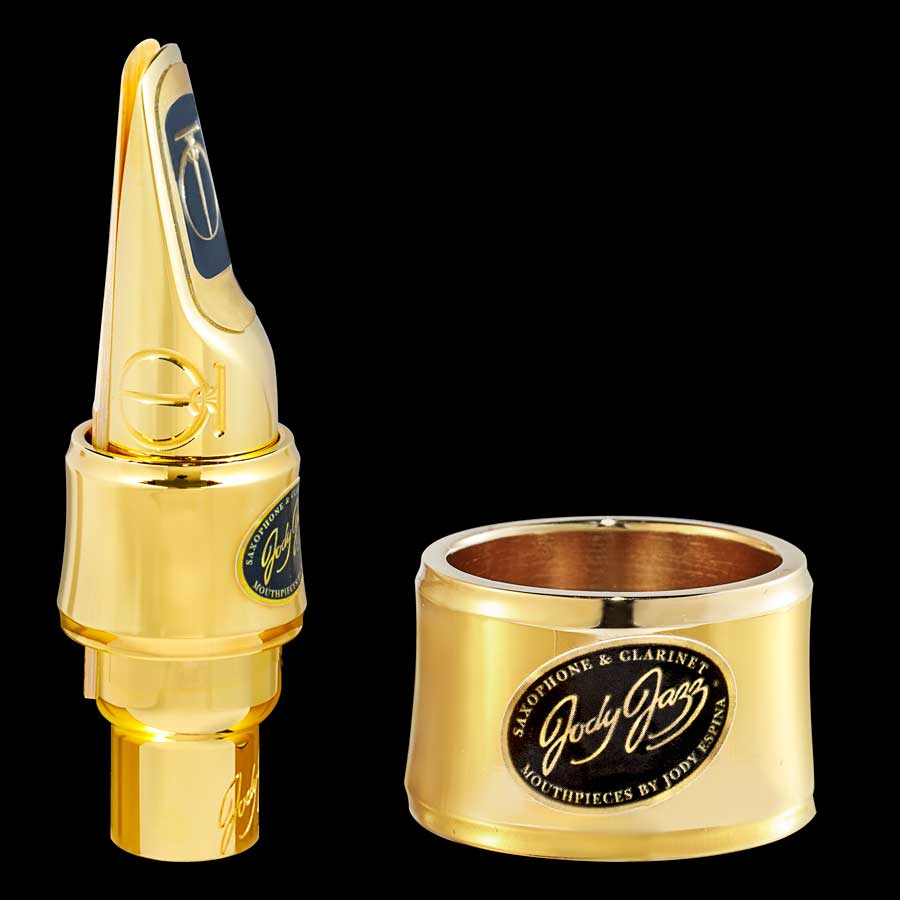 What Does The DV NY Do?
Bigger Darker Tone
Effortless Playing
More Harmonics
Cleaner Articulation
Warmth & Beauty
Excellent Altissimo
Improved Intonation
How Does The DV NY Do It?
Deep Full Chamber
Golden section proportioning
Proprietary CNC facing technology
Perfect radius facing curve
Secondary Window
Hand finished baffle, tip rail and table
Play tested by Jody Espina
DV Difference
Phi Proportions – Or the Golden Section Proportioning. The proportions that are found in the Stradivarius Violin, the Nautilus shell, the dolphin, human beings, the Ancient Pyramids and much more, are used for the first time on a saxophone mouthpiece. These proportions result in a chamber that increases harmonics making the sound bigger and richer. For more information about Phi visit at http://www.goldennumber.net

Secondary Window – The moving sound wave inside of the mouthpiece is now able to strike the vibrating reed above the bore of the mouthpiece instead of the mouthpiece material that is usually there. The effect is similar to a moving ball striking a moving bat. Home Run!
New Facing Technology and Curve – We have invested in new CNC technology and have come up with a proprietary way of putting on a new facing curve, which is perfect every time.
DV vs DV NY (How are they different?)
Both mouthpieces have a full resonant sound due to the secondary window. The DV will have more projection and be brighter due to the raised floor of the chamber while the DV NY will have a more traditional Jazz sound and projection due to the deep full chamber. We often recommend trying both mouthpieces if you are not sure which model would suit you.
"Dream Come True"
To create the most efficient saxophone mouthpiece possible while emulating the sound of the Classic 50's and 60's metal Baritone sax mouthpieces. That means that a beautiful, rich baritone sax tone can be produced with less effort than on previous mouthpieces.
The new facing curve results in absolutely no dead spots in the vibration of the reed. In other words all notes in all ranges respond equally. This Baritone sax mouthpiece has a husky barrel-chested tone and can sing sweetly and beautifully. Sub toning and low notes are extremely easy and the second octave of the baritone is less muddy than other traditional models while still sounding warm and full. Intonation is spot on. Be prepared to be inspired by your tone.
I have found that many jazz baritone saxophone players are playing saxophone mouthpieces that are stuffy and have a high degree of resistance. Also low notes can be more difficult to play on these older mouthpieces.
We have had many converts who were playing the most popular Jazz saxophone mouthpieces and who are amazed to find a saxophone mouthpiece that works so efficiently, where the articulation is clean and one can easily go from low to high and vice versa and still retain a beautiful full warm tone.
The DV NY saxophone mouthpieces are manufactured on the most sophisticated computer controlled Lathes and Mills, yet the DV NY benefits from a high degree of hand finishing. The attention to detail in design and finishing given to the DV NY results in a stunning work of art that plays like a dream come true.
Special Notes on The DV NY Bari Saxophone Mouthpiece
Be prepared to use or at least try harder reeds than you normally do due to the free blowing nature of the DV NY's and the DV's. This may or may not be the case for you. The great benefit of this is that a harder reed lasts longer and a harder reed helps the altissimo range. For this same reason, there is a small possibility that you may want to try a slightly more open tip than normal. For example, Otto Link # 7 players will usually play a DV NY 7*.
Also please note that if you are coming from a bright mouthpiece like the Dukoff or Guardala it is very likely that the DV instead of the DV NY will be more to your liking. This is because the DV while having a lot of power and projection still has a lot of bottom in the sound. The DV NY has plenty of bottom in the sound but it does not have as much projection as the DV. In other words if you are playing a lot of gigs where you need a lot of volume you may want to choose the DV. We often recommend trying both mouthpieces if you are not sure which model would suit you.

Why is there a warning label on Metal Mouthpieces?
Almost all metal mouthpieces in the past and at the present time are made out of brass which can contain up to 3% lead. The lead in the brass is one of the components that give this particular brass it 's hardness or rather it's softness which makes it have a particularly pleasing sound to musicians. Proposition 65 from the state of California requires manufactures to label any products that have compounds in them that have been found to cause Cancer or Reproductive Harm. Lead is one of these Compounds. JodyJazz mouthpieces are electroplated with a layer of copper, then a layer of Nickel, Silver or Rhodium, and then a layer of Gold or Silver. This electroplating ensures that the raw brass is never in contact with the player.
Do you and your employees use brass mouthpieces?
This is Jody Espina and yes myself and my employees have been using JodyJazz Gold or Silver Plated brass mouthpieces for many years. My first JodyJazz brass mouthpiece was made in 2001 and I have continuously been playing JodyJazz brass mouthpieces since. I played my first metal mouthpiece in 1979 on tenor sax and have always used a brass mouthpiece on tenor sax ever since then.