Effortless Power & Beauty
JodyJazz DV Tenor
U.S. Patent No. 7,470,844
$595.00Buy Now
What Is the DV Tenor Saxophone Mouthpiece?
Jody Espina has introduced the concept of Golden Section Proportions to the art of high end saxophone mouthpiece design. This perfect chamber/bore/facing combination will result in an extraordinary playing experience for you.
Effortless Power & Beauty
Here, nature, science and imagination combine to create a revolutionary new saxophone mouthpiece. The 24kt Gold Plated JodyJazz DV Tenor sax mouthpiece (U.S. Patent No. 7,470,844) uses proportions and principles found in nature. For the most effortless playing experience of your life, we invite you to try the DV tenor sax mouthpiece.
Three Goals in Creating the DV Series of Saxophone Mouthpieces
To create the most efficient sax mouthpiece possible. That means that there are more harmonics present in the sound and therefore the projection of this Tenor sax mouthpiece is huge.
To eliminate the annoying shrillness that is associated with loud bright Tenor saxophone mouthpieces.
To have a big fat mid-range and bottom end that has never been present before in a Tenor sax mouthpiece with strong projection.
JodyJazz DV Tenor Saxophone Mouthpiece Demonstration by Jody Espina
Ed Calle Plays DV Tenor Sax Mouthpiece with Arturo Sandoval
JodyJazz DV Tenor Sax Mouthpiece Available Tip Openings
6 = .090
7 = .101
7* = .108
8* = .116
9* = .125
Do you need a facing comparison chart?
CLICK HERE to compare JodyJazz mouthpieces with other brands.
JodyJazz DV Tenor Sax Mouthpiece Price:
$595
The mouthpiece comes with a Gold Plated Rico H Ligature, Cap, Mouthpiece Pouch and special Wood Cylinder case, Free domestic USPS Priroity Mail shipping included. (Click "BUY NOW" button to see overseas shipping)
$595.00Buy Now
Also Available for purchase is our proprietary JodyJazz POWER RING Ligature click here for more info.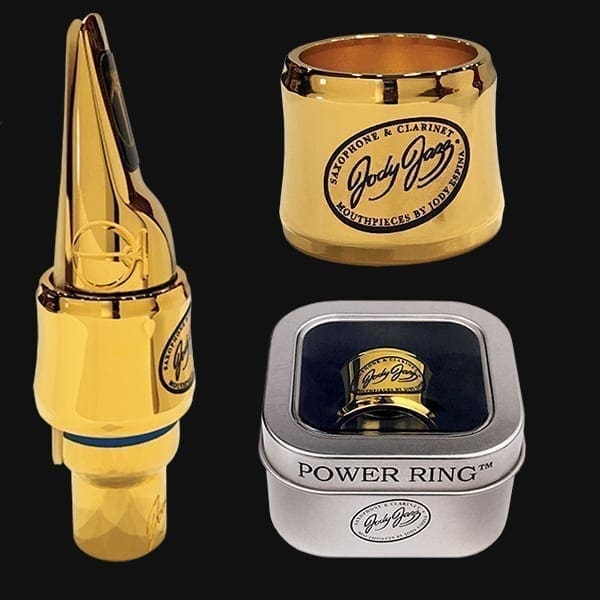 Testimonials from JodyJazz Artist Endorsers
As Seen on Full Page Advertisements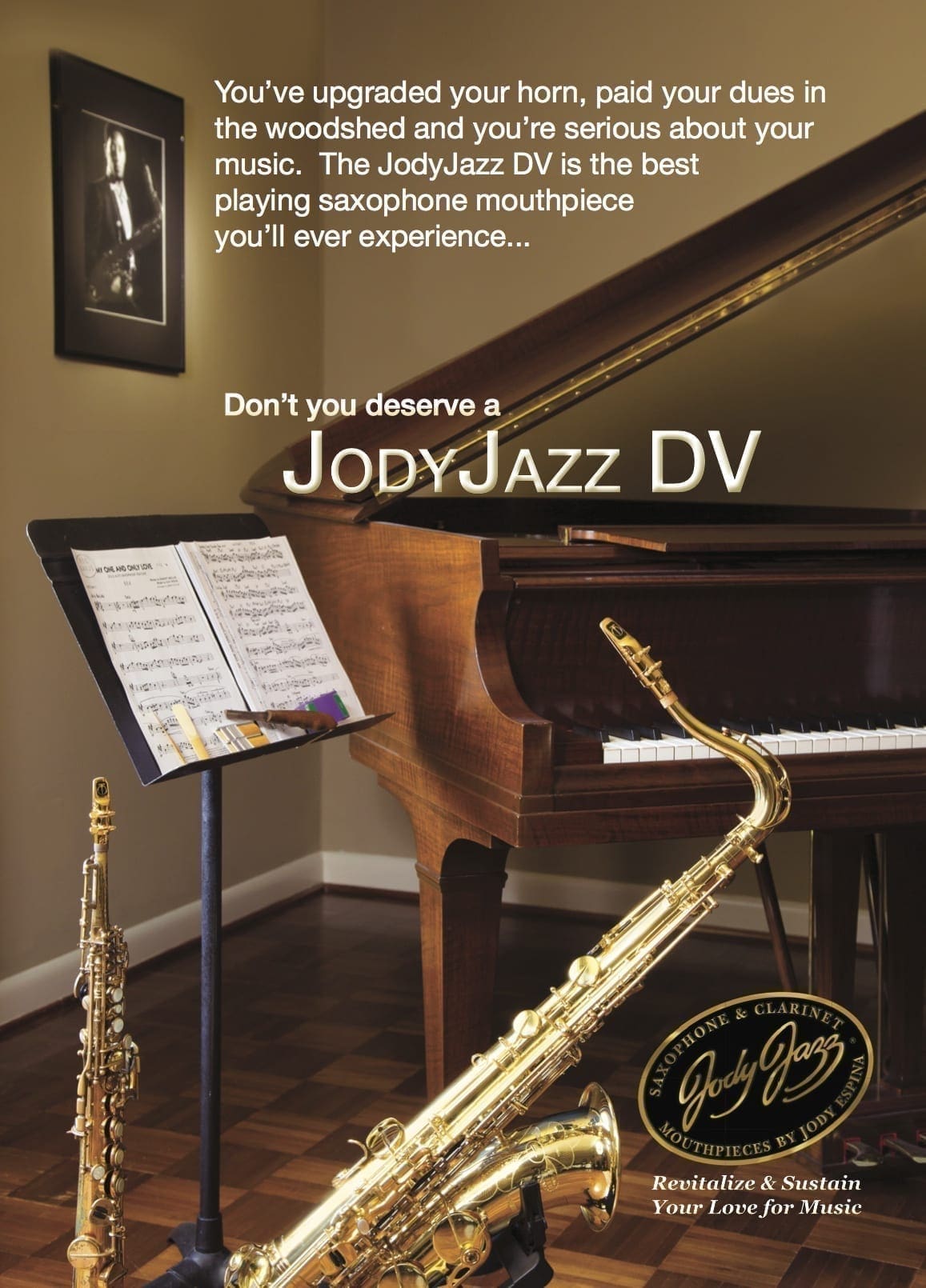 "Dream Come True"
The new facing curve results in absolutely no dead spots in the vibration of the reed. In other words, all notes in all ranges respond equally. This tenor sax mouthpiece has a husky barrel-chested tone while being able to sing and soar over the top of any band. Sub toning and low notes are extremely easy and the altissimo is out of this world. Intonation is spot on. Be prepared to have possibly the most fun you ever have had on the saxophone.
Players who now or in the past have played Guardala, Dukoff, Beechler, Jumbo Java, SR Tech, Vandoren V16, Yanigisawa, or any of the bright mouthpieces out there will be sure to love The DV. This is not just another bright mouthpiece. There will be noticeable differences and improvements.
I have found that many straight ahead jazz players who tend to favor mouthpieces that are just a little brighter than most mainstream dark mouthpieces have a very high chance of making the DV their new tenor mouthpiece. We have had many, many converts who came from playing the most popular hard rubber Jazz piece. These players almost always think that they won't like a metal tenor mouthpiece and they are surprised every time.
All saxophone players are amazed to find a saxophone mouthpiece that works so efficiently, where the articulation is clean and one can easily go from low to high and vice versa.
The DV is manufactured on the most sophisticated computer controlled Lathes and Mills, yet the DV benefits from a high degree of hand finishing. The attention to detail in design and finishing given to the DV results in a stunning work of art that plays like a dream come true.
What Does The DV Do?
Bigger Fatter Tone
Effortless Playing
More Harmonics
Cleaner Articulation
Power and Projection
Unbelievable Altissimo
Improved Intonation
How Does The DV Do It?
Secondary window
Golden section proportioning
Proprietary CNC facing technology
Perfect radius facing curve
Perfect reed/Tip match
24 kt heavy gold plating
Hand finished baffle, tip rail and table
Play tested by Jody Espina
DV Difference
Phi Proportions - Or the Golden Section Proportioning. The proportions that are found in the Stradivarius Violin, the Nautilus shell, the dolphin, human beings, the Ancient Pyramids and much more, are used for the first time on a saxophone mouthpiece. These proportions result in a chamber that increases harmonics making the sound bigger and richer. For more information about Phi visit at http://www.goldennumber.net

Secondary Window - The moving sound wave inside of the mouthpiece is now able to strike the vibrating reed above the bore of the mouthpiece instead of the mouthpiece material that is usually there. The effect is similar to a moving ball striking a moving bat. Home Run!

New Facing Technology and Curve - We have invested in new CNC technology and have come up with a proprietary way of putting on a new facing curve, which is perfect every time.
DV vs DV NY (How are they different?)
Both mouthpieces have a full resonant sound due to the secondary window. The DV will have more projection and be brighter due to the raised floor of the chamber while the DV NY will have a more traditional Jazz sound and projection due to the deep full chamber. We often recommend trying both mouthpieces if you are not sure which model would suit you.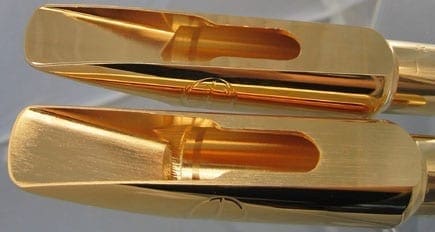 The JodyJazz DV series mouthpieces are hand made to ensure and maintain their highest quality. Demand will not compromise our ability to ensure that every mouthpiece we produce is the best available. When you order one of our mouthpieces, you can be assured that every effort is made to ensure you are rewarded with a product worthy of your investment. That will take time, care and patience. We feel that our DV, DV CHI and DV NY series are worth the wait and we believe you will too. Thanks a lot for your patience.
Special Notes on The DV Tenor Saxophone Mouthpiece
Due to the free blowing nature of the DV tenor and all the DV's , be prepared to use a harder reed than you normally do. This may or may not be the case for you. The great benefit of this is that a harder reed lasts longer and a harder reed helps the altissimo range. For this same reason, you may want to try a slightly more open tip than normal. For example, Otto Link # 7 players, will usually play a DV 7*.
"Jody
Just purchased a Tenor DV and an HR mpc for my late model Mark VI from wwbw. I want to share my experience with you.
I use the HR when playing along with my sax students but the DV is for me.
Like most sax players the perfect mpc is the holy grail............I know you've heard this many times. I was reluctant to switch from my Sugal which I've played for years but was frustrated with a weak low end and inconsistent altisimo. So I gambled and tried your 7* DV which is not as open as my Sugal at 118. But I wanted a fatter and more reliable low end. The DV came through. It took a little experimenting with reeds. My broken in reeds didn't play very well and I realized that a stiffer reed was required. I'm using Alexander and Rico Jazz #3. They do the job. I do a smooth/contemporary jazz gig and the projection is great and amazingly the speed of my playing has greatly improved. The notes seem to pop out almost before I hit them. The stuffiness of middle D is gone. I thought it was a leak in the horn or just the nature of my "VI". But I now have a solid middle D !! I'm also discovering improved intonation on palm keys and higher. Truly a great mpc. For the HR I found a good set up using Alexander NY reeds. It's a sweet mpc, very versatile, but I need to spend more time with it.
Regards"
Frank Zona, El Paso, Texas
---
"Hi Jody, I took my Alto DV to Europe for a tour with Sheila E. It worked great!! So glad I switched to it! I think it's time to complete my trilogy and get one for my soprano!! If I am currently using a Tenor DV 7* with Rico Royal 3, and Alto DV 7 with Rico Royal 3. What would you suggest I use for Soprano? I play a lot of subtone on Soprano, but I still want something that is fairly free blowing similar to what I am experiencing on the Tenor and Alto. Wayne Braxton"
Wayne Braxton, Chula Vista, CA
---
"I have been playing on the mouthpiece for a week now but really, it took all of 10 minutes to decide that this was by far, the best bass sax mouthpiece I have ever played! Smooth and responsive. It makes the behemoth that is a bass sax play like a great tenor. Thanks and now I am wondering why I took so long to decide to try your great product!"
Don Moran - Omaha, NE
---
"Dear Jody, Thanks for giving me the extended test period for the mouthpiece. I used the last days for intensive testing. The first impression was a bit ambivalent or almost disappointing. On one hand there was the impressive ease of response and control, probably second to none. However, on the other hand the sound seemed to me lacking of , of edge, of "smokey air" sound that I always liked on my Dukoff M8 so far (on a Yani 9930). Fortunately I've got recording options at home and so I recorded 2 songs with your MP and the Dukoff. The result I have to admit was quite surprising for me. Where the Dukoff showed indeed some very nice colours in certain ranges the JJ was remarkably more even over the whole range, perhaps not as spectacular as the M8 but at the bottom line more mature and very pleasant in the mix. Less compression was required in the mix since the JJ didn't break out in any range. One more evidence that our instruments sound for our audience (or for the mic) slightly different to what we hear when we play it! Summarized, the ease of control together with "love on second sight" of the sound I decided to keep it and make it a new friend 🙂 However, I found out that I need most likely harder reeds for the JJ. With the Dukoff M8 I used to play Rico La Voz medium-hard or Vandoren jaZZ 3. Your MP came with a Rico Jazz select 3. Was that just coincidence? I never played this type before and I liked it but it was still a bit to soft for me. What would be your recommendation? I know it's an individual thing but since it is so difficult to get a selection of various reeds in different strength here in Bangkok I would appreciate your recommandation very much. btw. The ring is really a good invention - as simple as it is. It reminds me a bit to the old technique on German clarinet MPs of drawing a string around. Definetely better than the normal ligature. Kind regards from The Land Of Smile Martin."
Martin Koehler, Bangkok, Thailand
---
" Hi Jody, I just wanted to send you an update regarding the DV8* tenor mouthpiece and ring ligature I received from you the day I visited your facility in July. I thought you'd be interested in hearing some feedback. I just finished playing in the pit for a production of Footloose here in New Jersey. Every night the sound man would compliment the sound I get on my tenor. A direct quote was "It cuts so well and yet is warm at the same time, awesome". I was pretty happy to hear that and thought you would be too. "
Damian Cremisio, NJ
---
"I have a Jody DV mouthpiece for my King tenor,Buescher 400 alto, and my King Saxello and the sound that comes out is clearwith no stuffiness! Three wonderful acquisitions!"
Doug Jackson, Winnipeg, Manitoba, Canada
---
"Hi Jody, I purchased your dv tenor mouthpiece last week and can't express just how thrilled I am about the sound I'm getting!! It's incredible!! This mouthpiece has galvanized my playing and my outlook on music!! Thank you Soooo much for your quality product. I'm the tenor player with atlanta based musicians: Coy Bowles (of Zac brown band), I occasionally play with the Zac brown band, I freelance with my jazz quartet, also finished a recording with my band The Soundmen, and I'm a regular member of the yacht rock schooner band. Each of my groups have shown great enthusiasm pertaining to my new sound (mouthpiece). I studied with sam skeleton, kevin bales, ej hughes, mace hibbard and David Sanchez at GSU. Sam mentioned your mouthpieces several months ago and im so glad i tried them! Thanks again,. "
Jordan Shalhoup, Decatur, GA
---
" Dear Jody, OMG...I received my mouthpiece last Thursday and, after taking about 10 minutes to get use to it and 5 hours of playing after that, my wife had to come down to the basement both Thursday and Friday nights to tell me to stop playing because it was after 12 midnight. I had a gig Saturday night and both the guitarist and bass player were OMG!!! I happen to have a box of Lavoz med hard reeds I bought a few years ago and, of course you were right, they work perfect with the DV 7*. I am very happy to give up the medium reeds! So thank you for making such a great mouthpiece and I look forward to many years of enjoyment blasting out an awesome sound from my horn! I absolutely love it!!! 🙂 With Kind Regards, Steve Binko "
Steve Binko
---
"It was truly amazing, that from the very first note I knew that I was hearing a quality of sound I never thought posible plus ease of playing and note exsessibility.This is IT, Jody Jazz. ps I play a toneking special."
George Keiht Lee, Bermuda
---
"Hello Jody, I just wanted thank you for your advise on the 8*Tenor sax mouthpiece. It is working great for me. I really appreciate you, for taking time to help me. Annette "
Annette Thorpe, Houston, TX
---
"Dear Sir, I recently bought a JJ DV 8* tenor mouthpiece and it is by far the best mouthpiece I ever played on!(I am 56 and play for about 35 years).What a delight to play. All the things you say about it on your website are true as far as I'm concerned. It is totally free blowing and has an infinite sound and enormous power and projection. Through the whole register there is a rich mixture of fatness and brightness while every single tone keeps its own unique color en 'feel'. When I play something is happening to me, I am in a flow, even my fingers move with great ease, effortless. This sound is me! I'm not a pro and since a bought this mouthpiece I feel frustrated that I can't play all day..... I am grateful to you Mr. Espina and I want to thank you for your dedication, expertise and mastership in developing this mouthpiece (and the others I am sure). I am curious about the other tenormouthpieces, when I am in the shop again I will definitely try them. With kindest regards, Oswald knaap"
Oswald Knaap, Leiden, ZuidHolland, Netherlands
---
"Caro Jody !! Ho sentito delle buone informazioni per dv.Sonno interesato a comprare una.Atualmente sto usando oto link 7 tenore. Che bochino mi consigli nr ? 7 stela Dv va bene per me , ce molta diferenza da 7 oto link?? Saro in atesa della sua risposta .. Grazie mille.."
Genti Salillari, Tirana, Albania
---
"It is easily the best sax mouthpiece I've ever played and I really enjoyed being able to take a reed right out of the box, and have the ability to play very loud or very softly without any trouble at all. From low to high, everything comes out clean and crisp. I'd like to say that after playing the DV, it is easy to see that the quality just towers over all other current sax mouthpieces, and more than a few of the vintage one's I've played."
Neil Broughton, New York
---
"Jody, I've been playing on my DV 8* Tenor sax mouthpiece now for a few months and I can't tell you how great it is. I've been recording and it has such a fat sound. Much, much, much better than anything I've tried before. Thanks so much for developing such a fantastic product. Be blessed. "
Gary Honor, Australia
---
"I recently purchased a DV tenor and it it the best saxophone mouthpiece I have ever played. I own Barones,Bergs, Runyons, Links ,Zagars and your tenor piece is mighty. Your new fan"
Chris Anderson
---
"I tried the DV model and as every sax players in the world i find it wonderful, no more words , congratulations for your work.And of course i WANT ONE!!!! "
Dominique de Larrard, Spain
---