Big Robust Sound
JodyJazz DV CHI Tenor
Palladium-plated Metal Tenor Saxophone Mouthpiece
U.S. Patent No. 7,470,844
Buy Now
What is the DV CHI Tenor Saxophone Mouthpiece?
The DV Chicago model Palladium-plated metal tenor saxophone mouthpiece is the culmination of a quest by Jody Espina to make the most efficient saxophone mouthpiece that delivers the biggest, fullest sound.
The DV CHI produces a darker, less bright tone than the contemporary sound of the JodyJazz DV, but a considerably brighter more modern tone than the JodyJazz DV NY. The beautifully shaped baffle/chamber design of the DV CHI produces a tone that is reminiscent of Dexter Gordon but is quite at home in a contemporary situation.
Simply put, the DV CHI combines the best properties of the highly successful DV and DV NY series while adding several new design modifications which enhance the players ability to manipulate the tone. The scalloped chamber also allows the player to push more air through the mouthpiece without experiencing any harshness.
Big Robust Sound
Here, nature, science and imagination combine to create a revolutionary new saxophone mouthpiece. Jody Espina has designed the patented JodyJazz CHI, using proportions and principles found in nature. For a powerful, husky, effortless playing experience, we invite you to try the DV CHI.
JodyJazz DV CHI Tenor Sax Mouthpiece Price: $675

DV CHI is a Palladium-plated metal tenor saxophone mouthpiece. The mouthpiece comes with a Silver finish H-Ligature, Cap and Deluxe Mouthpiece Pouch and Metal Canister. Free domestic USPS Priority Mail shipping and handling included. (See Overseas Shipping below for prices)
Buy Now
JodyJazz DV CHI Tenor Sax Mouthpiece Available Tip Openings
7 = .101
7* = .108
8* = .116
9* = .125
Do you need a facing comparison chart?
CLICK HERE to compare JodyJazz mouthpieces with other brands.
As Seen on Full Page Advertisements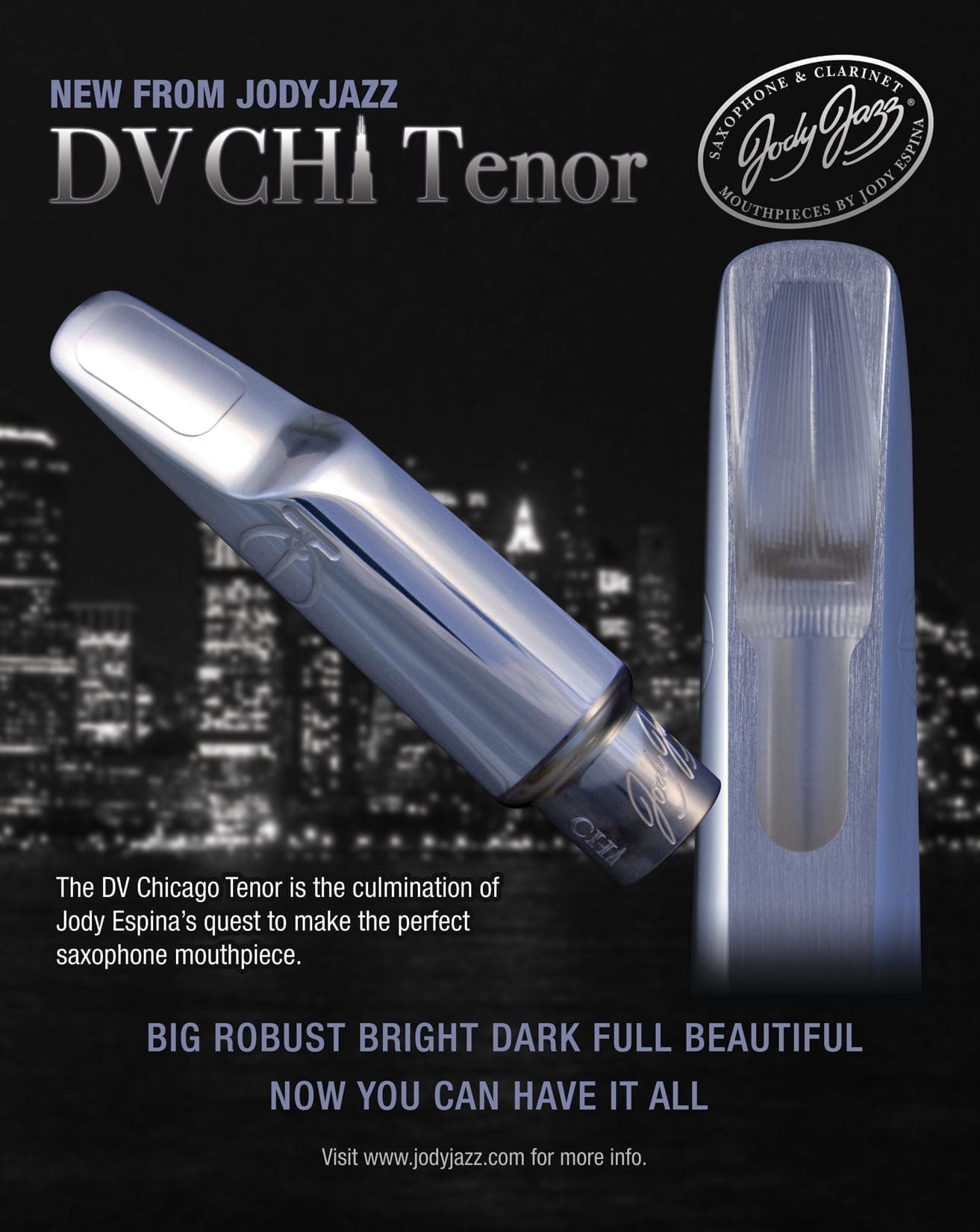 Ed Calle – DV CHI Tenor Part I
Ed Calle – DV CHI Tenor Part II

Ed Calle – DV CHI Tenor Part III
DV CHI Difference
Phi Proportions – Or the Golden Section Proportioning. The proportions that are found in the Stradivarius Violin, the Nautilus shell, the dolphin, human beings, the Ancient Pyramids and much more, are used for the first time on a saxophone mouthpiece. These proportions result in a chamber that increases harmonics making the sound bigger and richer. For more information about Phi visit at http://www.goldennumber.net

Secondary Window – The moving sound wave inside of the mouthpiece is now able to strike the vibrating reed above the bore of the mouthpiece instead of the mouthpiece material that is usually there. The effect is similar to a moving ball striking a moving bat. Home Run!

New Facing Technology and Curve – We have invested in new CNC technology and have come up with a proprietary way of putting on a new facing curve, which is perfect every time.
What Does The DV CHI Do?
Bigger Fatter Tone
Effortless Playing
More Harmonics
Cleaner Articulation
Power and Projection
Unbelievable Altissimo
Improved Intonation
How Does The DV CHI Do It?
Secondary window
Golden section proportioning
Proprietary CNC facing technology
Perfect radius facing curve
Perfect reed/Tip match
Hand finished baffle, tip rail and table
Play tested by Jody Espina
Special Notes on The DV CHI Tenor Saxophone Mouthpiece
Due to the free blowing nature of the DV CHI Tenor, be prepared to use a harder reed than you normally do. This may or may not be the case for you. The great benefit of this is that a harder reed lasts longer and a harder reed helps the altissimo range. For this same reason, you may want to try a slightly more open tip than normal. For example, Otto Link # 7 players, will usually play a DV CHI 7*.